Early Buzz: 'Cloud Atlas' Test Screening Reactions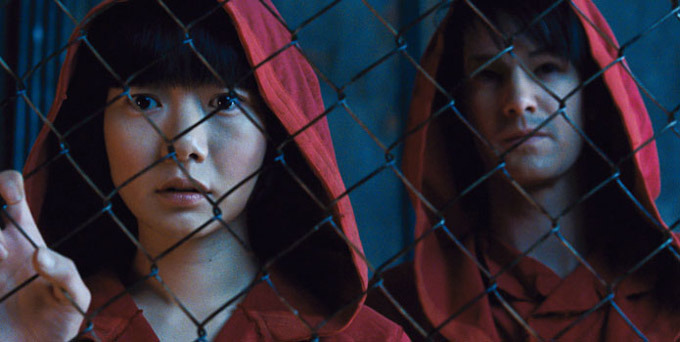 The same breathtaking ambition that makes Andy Wachowski, Lana Wachowski and Tom Tykwer's David Mitchell adaptation Cloud Atlas so intriguing also gives it the potential to flop, hard. Weaving together six interlocking stories that cut across time, space, and genre is difficult enough to do within the confines of a novel, to say nothing of a three-hour film. Then there's that insane casting: stars like Tom Hanks, Halle Berry, Hugo Weaving, Hugh Grant, Jim Broadbent, and Jim Sturgess are each playing multiple characters, in some cases switching genders or races to do so.
Thankfully, buzz from test screenings suggests that much more of it works than not. Keep in mind that quite a few things may have changed in the few months since testing began (for one thing, some of these folks saw a cut that was four hours long), and that these reactions are coming from people whose tastes we don't know. Even so, a flood of positive reactions seems like a very promising sign. Hit the jump to read the comments.
One of the more thoughtful, lengthier reactions came from user hurricanesmith on the Awards Daily Forums, back in May.
When I say this is one of the best movies I've ever seen, I am exaggerating, of course, but only a very little bit. What's here is going to be beloved by some and vehemently hated by others, and I'm not sure there's going to be a middle ground.
[...]
This isn't going to be a major Oscar player, I don't think. It would require near-unanimous critical praise–which it won't get–and massive box office–which seems unlikely. If it's a player, it will probably mostly be for the techs and maybe the elliptically beautiful screenplay. I have a hard time seeing much of anything else. But I don't really care. I'm glad this movie exists, and I hope the studio doesn't fuck it up too much thanks to test screening results. This is a delicate thing, and even the slightest of changes could make it all fall apart. But for a certain type of filmgoer, this is going to be a real treat indeed, and a reminder that American film can still do ambitious as well as anybody else (just so long as it's primarily financed by foreigners).
jamesdarcy.net forum member Ania dug up an ambivalent reaction:
Cloud Atlas is not a perfect movie by any means, but it is quite good and interesting, and unlike anything the studios usually churn out. Its makers should be commended for the apt job they did successfully navigating challenging creative waters. Whether or not the film is financially successful as well will be decided by paying moviegoers, such as your readers, later this year.
The same person seemed more distracted by the race-crossing makeup than most:
As much as it is theoretically interesting to see Hugh Grant play an Asian man or Halle Berry play a white woman, I was always taken out of the movie when one of these familiar faces popped up in an ill suited racial guise. The makeup was as good as the Hollywood pros could make it, but I would have preferred that they use different actors for the wide ranging cast of characters, so as not to call into question the viewer's suspension of disbelief.
Sturgess fan DizzyLizzy was less restrained in their praise on the jimsturgessonline.com forum:
Okay... now for my review. I have to say that this film totally blew me away! Leave it to the very creative and innovative Wachowski's (The Matrix Trilogy) and Tom Tykwer (Run Lola Run) to make this complex book into a GREAT film. And the editing of this incredibly complex film could not have been better! After reading the novel, it was hard to imagine how they'd pull it off, but they do so exceptionally well!
In contrast, IMDb forum member CaliKeane didn't find the makeup as difficult to get used to, and liked the movie better as a whole:
Most of the actors had either a cross-gender or cross-ethnic role. Notable mentions are Halle Berry as a white woman from the early 1900s, Zhu Zhu as a Mexican house cleaner, and Hugo Weaving as the biggest, ugliest geriatric nurse I have ever seen. For the most part, this works. It's definitely a bit odd to see it on screen but with the help of some truly phenomenal makeup work and great performances by the actors, the portrayals go from funny to believable pretty quickly.
[...]
This film is incredibly ambitious. The six stories are edited into one so there is little to no downtime during the film. The makeup and costumes will absolutely be nominated for Oscars while visual effects have a great chance as well because of how subtle and artistically done they are. This film is a bit goofy in ways. You have to be ok with Tom Hanks playing six different characters in the movie. You have to be ok with realistic stories being interlaced with far future stories. Self referential humor about absurd things. Overall our audience very much enjoyed the film. They gave it a decent round of applause at the end and it was pin drop quiet while everyone was filling out their opinion cards. I'm very interested to see how the public and critics enjoy it.
Another IMDb forum member, Sparklemotion128, offered a few observations that may be of particular note to fans of the book:
Doesn't follow the narrative structure of the book, which becomes obvious from the first shot of an old Tom Hanks as Zakry. Instead, it criss-crosses constantly across the 6 stories.
The Somni story is considerably different to the book.
Eve isn't part of the Frobisher story at all.
Film was very entertaining, but I did wonder if those that hadn't read the book will follow it.
Not every audience member was agreed on all points, though it should be noted that different audiences seemed to have watched different cuts. HitFix commenter Ari Dassa was impressed by the editing...
I was also at this Pasadena screening in May and agree, it is indeed a very good movie. It's wild and ambitious and very funny (Broadbent is amazing), and for a movie that switches genre every few minutes, it's smooth, swift, and always entertaining. Great editing all around. The Make-Up FX are kinda tacky and distracting sometimes, but it doesn't really matter. The film really works, and the Wachowskis and Tykwer deserve major props for pulling it off.
... while Screen Rant commenter loganfire3 specifically called out the clumsy editing:
Saw cloud atlas last night at their first test screening. I sat directly behind the wachowskis and even managed to strike up a conversation. Very cool people. The movie was over 3 hours and it did tend to drag a little. there were 5 different stories going at once so it was a little confusing for the first hour. The editing needs to be reworked., once that is done then that movie will be amazing. Tom hanks was good as well as halls berry. Hugo weaving rocked it and hugh grant was actually pretty cool.
The one truly vicious negative response came from reader Joe De Hoya at Towelroad, though since they decline to say what they hated so much the comment is of limited use for our purposes:
I saw an early screening of this a few months back and all I have to say is it was one hot convoluted mess. My favorite part was the lights coming on at the end.
Although the trailer had a fairly serious tone, a couple of moviegoers (including Indiewire commenter Jackson) mentioned the film's sense of humor.
I just saw a test screening of this film in Pasadena tonight. The Wachowskis were there. Not sure about Tykwer. It's a wild ride. Mixes different genres together like some crazy magic potion. Audience reaction seemed pretty good. It has serious themes but doesn't take itself so seriously that it becomes pretentious. The film has a good sense of humor. Lots of crazy make-up fx and entertaining performances. Very impressive stuff.
Overall, though, it sounds like those who liked the trailer will be getting what they hoped for. At least according to HitFix commenter Rev. Slappy:
I saw a test screening of Cloud Atlas in Pasadena the same week they screened it at Cannes. As good as the movie is (and it's really good) I was curious as to how Warners was going to sell it. That trailer does a pretty effective job of explaining what the film is going to be. And the Hanks as Vinne Jones bit is brief but good God it's spectacular. Jim Broadbent owns this thing though.
Cloud Atlas opens October 26. Here are a few new images you might not have seen.
[Special thanks to /Film reader John S. for the tip.]