First Look At Stallone And Schwarzenegger In 'The Tomb'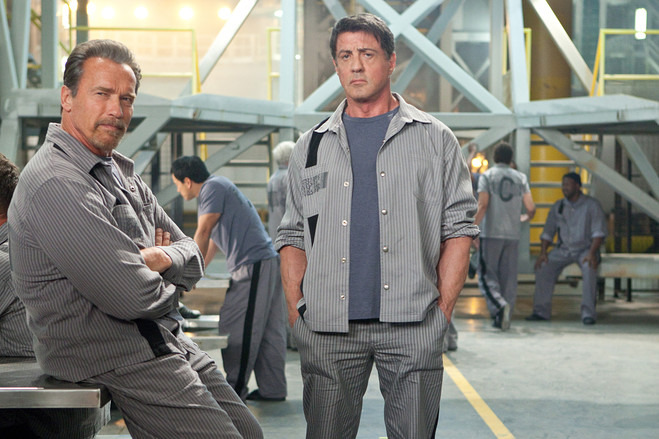 Arnold Schwarzenegger is getting back to work in a big way, having already shot a role in The Expendables 2, and the feature Last Stand. (A trailer for while should go online this week.) Now he's shooting The Tomb, which puts him back on the screen with Expendables creator and former box-office rival Sylvester Stallone.
Stallone plays a security expert trapped in an unbreakable jail of his own design, while Arnie plays a prisoner in the jail who helps Sly escape. The film also features Jim Caviezel, Vincent D'Onofrio, Sam Neill, Vinnie Jones, Amy Ryan, and 50 Cent.  Mikael Håfström (1408, The Rite) directed, and that's the first full image of the two leads, above.
This pic is via the Wall St. Journal; click to enlarge. Here's the synopsis:
Ray Breslin (Stallone) is a structural engineer who is wrongly convicted of a crime. Breslin designed a variety of high tech buildings and was a top structural engineer. After Breslin was wrongly convicted, he was sent to serve his sentence in a maximum security prison of his own design. During his time in prison, Breslin has analyzed every high security prison and gained significant survival skills, but faces his biggest challenge in trying to break out of an ultimate high-tech prison that he himself designed to be escape-proof.
Not only facing the challenge of breaking out of the escape-proof prison, Breslin also has the challenge of battling the ruthless warden Hobbs (Caviezel) and his corrupt guard (Jones). Breslin is assisted in his escape attempt by fellow prisoner Emil Rottmayer (Schwarzenegger). Rottmayer is a wise, soulful and complex inmate who fights with other prisoners to keep their humanity, whilst they are struggling to stay alive. Breslin and Rottmayer will be joined in their escape by a third prisoner that is an expert in computers (50 Cent).
The Tomb doesn't have a final release date at this point, but expect it some time in 2013.