Universal Shuffles Tom Cruise's 'Oblivion,' Jessica Chastain's 'Mama' And Ron Howard's 'Rush'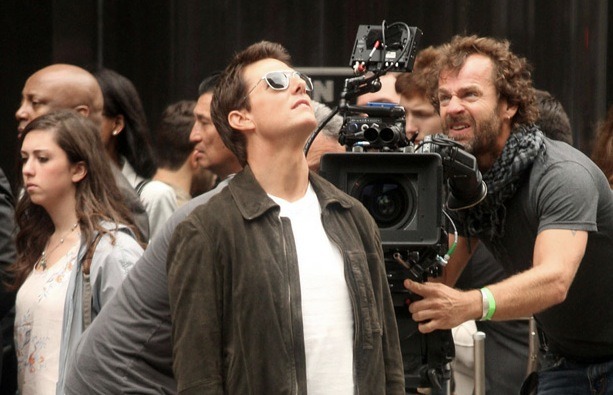 It's a slow news day in Hollywood; a perfect time to mess with the release schedule, and that's just what Universal has decided to do. The biggest news is that Joseph Kosinski's sci-fi epic Oblivion, starring Tom Cruise, has been moved from April 26, 2013 to April 19, 2013 in traditional theaters and April 12, 2013 IMAX theaters. Yes, IMAX will have an exclusive one week run on the film before anyone else.
Next up, they dated the previously homeless Ron Howard-helmed, true Formula One story Rush for September 20, 2013. The film stars Chris Hemsworth. And finally, the Guillermo Del Toro-produced horror film Mama, starring Jessica Chastain, has been pushed from its October 2012 release to January 18, 2013.
Variety was the first to tweet the news of these release shifts, which each have their own subtle stories.
Oblivion: The exclusive IMAX run of the film shows a vote of confidence in whatever dailies the director of Tron: Legacy has been turning in for the past few months. Also, moving the film up a few weeks in the seemingly wide open month of April 2013 distances the sci-fi blockbuster from the sure to be a monster hit Iron Man 3. Read much more about Oblivion here.
Rush: Everything we've seen from Rush has looked stupendous but the question was, is this a summer blockbuster or an awards contender? The September release date answers that with authority: we're looking at an all-around drama with award potential. Read more about Rush here.
Mama: I was on the set of Mama in Toronto last year so I'm embargoed from saying anything specific about the film. What I will say is the thriller, directed by Andres Muschietti, features a Jessica Chastain no one has seen before. With the film scheduled to release in October and not an official still, poster or trailer to be seen, I had a feeling this might happen and it means one of two things. Either Universal is confident in the film and is giving it more time to be completed properly. Or, you know, the exact opposite. Read more about Mama here.