TV In Development Bits: 'Freakonomics', 'The Beach', 'Luther', 'Idiocracy', 'Sleepy Hollow', Keri Russell, Warren Ellis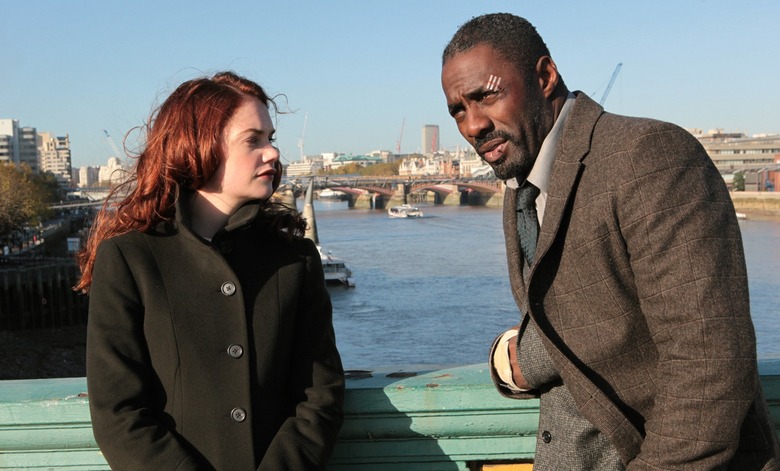 This special edition of TV Bits looks to the future, with several bits of info about new projects in development. After the jump:
Kelsey Grammer produces a Freakonomics-inspired drama for NBC
Warren Ellis' crime novel Gun Machine is being adapted for TV by Fox
Fox is developing a television adaptation of Danny Boyle's The Beach
The CW is prepping its own contemporary take on Sleepy Hollow
FX picks up The Americans, a Cold War drama starring Keri Russell
Luther creator Neil Cross and the BBC consider an Alice-centric spinoff
Terry Crews' Camacho could feature in a web-based Idiocracy spinoff
Steven D. Levitt and Stephen J. Dubner's nonfiction tome Freakonomics has been developed into a blog, a radio show, even a documentary — and now it's even inspired a police procedural. NBC has just picked up Pariah, a new drama by Lionsgate TV and Kelsey Grammer's Grammnet Productions. Levitt and Dubner are on board as producers.
The script, by Law & Order: SVU scribe Kevin Fox, sees the mayor of San Diego appointing an academic with no law enforcement experience to spearhead a police task force using Freakonomics-inspired methods. Not surprisingly, the cops don't take to the decision so well. [Deadline]
Warren Ellis, the acclaimed comic book writer of Transmetropolitan and Red, is about to come to a small screen near you. Or more accurately, his upcoming novel Gun Machine is.
Fox is developing a dramatic thriller based on the book, about a New York detective who comes across a mysterious stash of weapons that trace back to apparently unrelated murders. Dario Scardapane (Trauma) is on board to write the adaptation. It'll be some time yet before the show hits the airwaves, if it even makes it that far, but you can learn more about the story when Ellis' novel hits shelves in January. [Deadline via Bleeding Cool]
Also coming down the pipeline at Fox is The Beach, a drama based on Andrew Garland's 1996 novel and its subsequent 2000 movie adaptation by Danny Boyle. Andrew Miller (The CW's The Secret Circle) is on board to write the script, which Miller says is "about a group of young people feeling disconnected and disenchanted from society who try to start over in paradise but discover that while creating the perfect world is hard, protecting it is even harder." In less abstract terms, the plot centers around a traveler (played by Leonardo DiCaprio in Boyle's film) seeking an isolated island paradise. [Deadline]
The CW, home to Supernatural and The Vampire Diaries, is getting ready for another dip into horror. The network has just picked up Sleepy Hollow, a contemporary take on the classic tale by Washington Irving. In it, Ichabod Crane will be an FBI agent brought in to investigate a spate of beheadings plaguing a small town. This marks two Sleepy Hollow projects now in development — Fox is cooking up its own version, with help from director Len Wiseman and writers Alex Kurtzman and Roberto Orci. [STYD]
Keri Russell's sitcom Running Wilde didn't fare so well, but the former Felicity star will soon return to the small screen in a project that sounds more promising. FX has just ordered thirteen episodes of The Americans, a Cold War drama starring Russell and Matthew Rhys as a pair of KGB spies. The pair's cover as American couple in the DC suburbs is complicated by the arrival of their neighborhood's newest resident, an FBI agent (Noah Emmerich). The show is expected to air early next year, though no exact date has been announced at this time. [Vulture]
Detective John Luther (Idris Elba) may be the star of BBC's Luther, but sociopathic Alice Morgan (Ruth Wilson) has her share of dedicated fans as well. Including, apparently, Luther creator Neil Cross and the BBC. Cross told Variety that he's considering an Alice-centric spinoff, and that the BBC is already "very interested" in it.
Cross cautions that the project is still in the very early stages, and that he hasn't even spoken to Wilson about it yet. But he has some idea of where he wants things to go, explaining that he envisions the series as "a mix between The Talented Mr. Ripley and The Last Seduction." [Vulture]
Terry Crews will be stepping back into The Expendables' Hale Caesar for the sequel next weekend, but the character of his that he's really eager to bring back is apparently Idiocracy's President Dwayne Elizondo Mountain Dew Herbert Camacho. Crews has been talking up his desire to reprise that role for years now, and it looks like his wish is finally moving a little closer to reality.
"Me and Mike [Judge] are talking right now with Fox about some Camacho stuff," he revealed in a recent interview. "We literally met with Fox a week ago. It's so cool." The details are still being hammered out, but Crews says the spinoff will likely hit the web. "We're going to see what it becomes, but we got approval from Fox to do some stuff," he said. "We're going to start off on the internet and do some small interstitials with Camacho." Crews added that they're trying to "gauge the interest," so if you've got your fingers crossed for a Camacho comeback, maybe try and make that known somehow. [Movieline]