'Bill & Ted 3' Coming Together For Real, With 'Galaxy Quest' Director Attached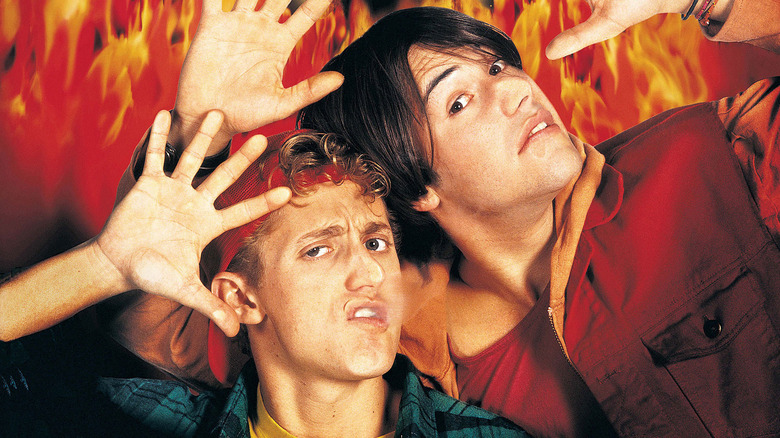 Maybe when we first heard about the possibility of a third Bill & Ted, it sounded like an outlandish idea. As Alex Winter and Keanu Reeves have continued to offer little updates, however — and as more and more '80s and '90s properties have found their way to the big screen — it's started to seem more and more plausible. And now the project's taken one more big step forward, with Dean Parisot (Galaxy Quest) just hired to direct. More details after the jump.
Plot details for Bill & Ted 3 have not been revealed, but we've known for some time that it would be a straight sequel rather than a reboot or remake. Winter and Reeves have previously said that the new film would check back in with the lovable slackers, now well into middle age.
"When we last got together, part of it was that Bill and Ted were supposed to have written the song that saved the world, and it hasn't happened," Reeves told MTV last year. "So they've now become kind of possessed by trying to do that. Then there's an element of time and they have to go back." The two stars remain on board to reprise their roles as Ted Theodore Logan and Bill S. Preston, Esq. (No word yet on whether there'll be any room for William Sadler, who's expressed an interest in slipping back into his Grim Reaper robe.)
Even with Parisot in the director's chair, however, Bill & Ted 3 won't get going for some time yet. Parisot is currently in pre-production on the geriatric action comedy Red 2, which is due out next summer. Then there's the matter of money: MGM remains the home of the Bill & Ted rights, but Vulture reports that the sequel is currently looking to other studios for co-financing.