Rosamund Pike Joins Simon Pegg And Nick Frost At 'The World's End'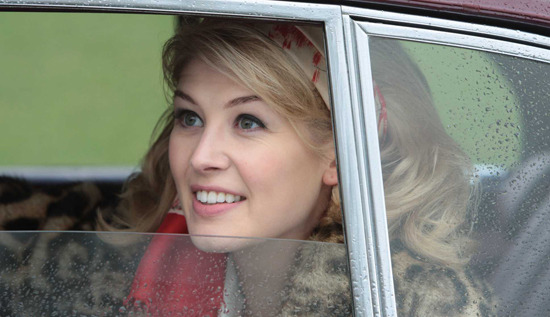 This summer has been great for fans of Edgar Wright. A few people got to see his compelling test footage for Marvel's Ant-Man, for one. For those who aren't willing to wait for that, however, the third film of his loose, so-called 'Blood and Ice Cream' trilogy with Spaced, Shaun of the Dead, and Hot Fuzz co-conspirators Simon Pegg and Nick Frost is finally moving forward.
The World's End, as the film is called, kicks off with a group of five friends going on a reunion pub crawl, and the first teaser poster for the film promised an epic round of drinking. But we can expect it to be much more than that, and even if the title of the film is also the name of one of the visited pubs, it is also fairly ominous. We don't have much info on the cast that will support Frost and Pegg, but Baz Bamigboye reports that Rosamund Pike (Pride and Prejudice, An Education, Wrath of the Titans) will play one of the characters, and that's a great start.
In general, our knowledge of the film is slim. Wright said not long ago "this is as much about where you grew up as the people you grew up with... It's also very silly. I would say it's darker, more personal and more silly." He added, "it's a sci-fi comedy. Social science-fiction. Look it up on Wikipedia and then bone up on John Christopher and John Wyndham." (Those authors wrote alien invasion classics The Tripods and The Day of the Triffids.)
Here's the official line on the movie, which begins shooting next month:
 20 years after attempting an epic pub crawl, five childhood friends reunite when one of them becomes hell bent on trying the drinking marathon again. They are convinced to stage an encore by mate Gary King, a 40-year old man trapped at the cigarette end of his teens, who drags his reluctant pals to their home town and once again attempts to reach the fabled pub, The World's End. As they attempt to reconcile the past and present, they realize the real struggle is for the future, not just theirs but humankind's. Reaching The World's End is the least of their worries.