Directing Bits: Sean Penn Goes 'Crazy For The Storm', Steve Pink Talking 'About Last Night'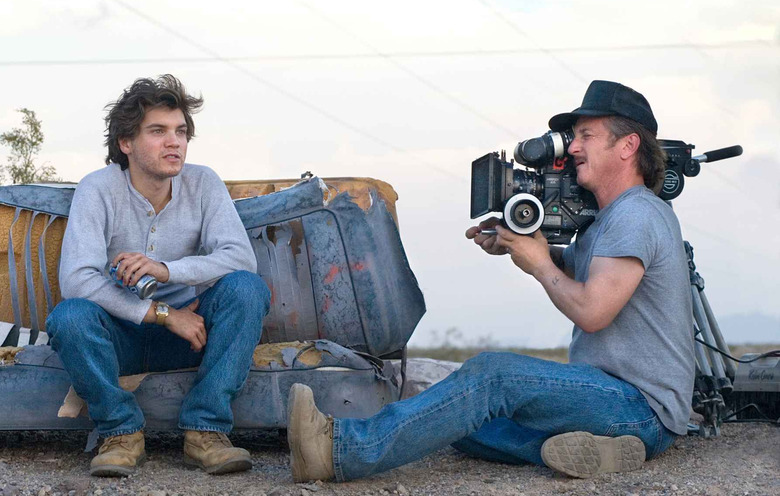 Five years after Into the Wild, Sean Penn is finally getting ready to get back into the director's chair. As of last fall, he was set to direct The Comedian with stars Robert De Niro and Kristen Wiig, but it looks now like his next project could instead be another inspired-by-true-events survival drama.
Penn has entered talks to help Crazy for the Storm, based on Norman Ollestad's memoir about his complicated relationship with his daredevil father. When Ollestad was 11, he was involved in a plane crash that killed the elder Ollestad and left the younger Ollestad stranded alone on a mountain during a blizzard. Ollestad credits his father's teachings for helping him survive the incident.
Penn is only looking to direct the picture, not star in it. Nor will he pen the screenplay, as he has for some of his previous projects; Will Fetters, who last scripted the Zac Efron weepie The Lucky One, is already on board to adapt the story. Variety reports that Penn was always Warner Bros.' first choice for the pic, though the studio considered a handful of other filmmakers including Alfonso Cuarón.
After the jump, Hot Tub Time Machine director Steve Pink eyes the remake of About Last Night...
Pink would direct from a script by Bachelorette writer Leslye Headland. Though the project's been brewing for a couple of years now, it seems to have picked up steam in the past few months. Michael Ealy and Kevin Hart have recently boarded in the roles originally portrayed by Rob Lowe and Jim Belushi, while Regina Hall is rumored to be eyeing the Elizabeth Perkins part. Screen Gems is still seeking another young actress to fill Demi Moore's shoes as the love interest. [Deadline]