Bryan Singer-Produced Web Series 'H+' Now Playing Online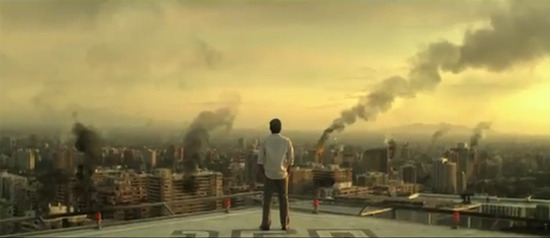 The web series H+. from Warner Bros. producer Bryan Singer, and director Stewart Hendler, has been in the works since 2008, and is finally starting to show up online. The show is built on a dual layer premise: first, that a technological implant called H+ allows humans to have 24/7 built-in biological access to the internet, and second, and a virus sweeps users of H+, killing millions in seconds.
The first trailer for the series suggested that it goes way beyond most web series in scope and production value, and now you can see the first couple episodes, to get an idea of how it is going to develop.
First, here's the plot description for those who might have missed the trailer:
H+: The Digital Series takes viewers on a journey into an apocalyptic future where technology has begun to spiral out of control... a future where 33% of the world's population has retired its cell phones and laptops in favor of a stunning new device – an implanted computer system called H+.
This tiny tool allows the user's own mind and nervous system to be connected to the Internet 24 hours a day. But something else is coming... something dark and vicious... and within seconds, billions of people will be dead... opening the door to radical changes in the political and social landscape of the planet – prompting survivors to make sense of what went wrong.
Here are the first two episodes. (Which might be blocked in some countries; I have no idea why, but I've seen some complaints about regional restrictions.) There will be more episodes released each Wednesday at 12pm PST, which can be seen by subscribing to the series' YouTube channel, with the finale hitting in January 2013. If these first two are any indication, the installments might vary a bit in length.