'Skyfall' Banner And Posters Revealed; Check Out New Behind-The-Scenes Photos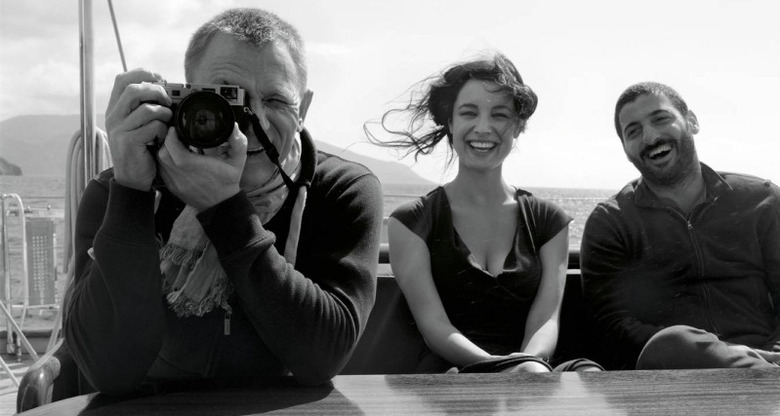 James Bond's ability to fill out a tux is the stuff of legend, as is the beauty of his many female associates. All of which should make it very easy indeed for the Skyfall marketing team at Sony to put out one sharp-looking ad campaign. A new banner and series of posters feature stars Daniel Craig, Bérénice Marlohe, Naomie Harris, and Javier Bardem, all dressed up and doing their best Blue Steels in front of a stark black and white 007 logo.
Meanwhile, the vibe behind the scenes looks a little more relaxed. Photographer Greg Williams got on set to capture images of the Skyfall team at work and play, and has assembled the pictures into a gorgeous coffee table book called Bond on Set. Check out the new posters and preview Williams' book after the jump.
[via Facebook]
Well, now we've learned that the mysterious Silva takes his sartorial cues from the Matrix. I'd make fun of the long black coat, but I'm more distracted by that weird blond 'do. Between this and his No Country for Old Men pageboy, Bardem's about to corner the market on oddly coiffed baddies.
All in all, though, the foursome look pretty great. Craig's promised that Skyfall would see a happier Bond than we got in Casino Royale orQuantum of Solace, and apparently that buoyant mood also extends to his wardrobe. While most of his pals here are decked out in shades of black, white, grey, and khaki, Bond's traded in his classic black tux for a slightly snazzier blue one.
Craig looks even more cheerful in Williams' behind-the-scenes snapshots. I love the image of him doing the cheesy photographer pose so much. Marlohe seems to be having a blast as well, both in that picture and in the ones of her lounging around her trailer in a formfitting costume.
[via MI6-HQ.com]
Williams' Bond on Set will be released October 1.
Directed by Sam Mendes and also starring Judi Dench, Ralph Fiennes, and Ben Whishaw, Skyfall opens October 26 in the UK and November 9 in the US.