Shia LaBeouf In Talks For Lars Von Trier's 'Nymphomaniac'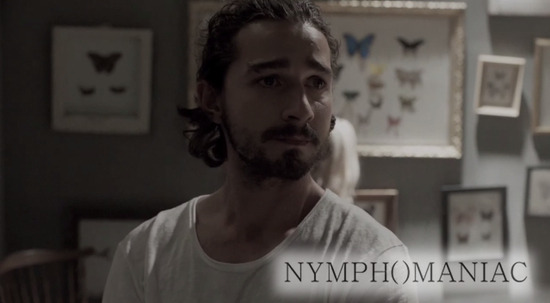 Leave it to Lars von Trier. The provocative Danish director is preparing to shoot his next movie, Nymphomaniac, a film which "follows the erotic adventures of a woman from her youth to age 50." Charlotte Gainsbourg plays the woman, Stellan Skarsgard plays the man who finds her and hears her story, and Nicole Kidman has a small role. Now Shia LaBeouf is in talks to play a role as well.
According to THR, there isn't much info on the potential role for LaBeouf. Presumably he'll be a suitor/partner for Gainsbourg's character.
Nymphomaniac is going to be performed in English, and split into two films, with a soft and X-rated version of each of the parts. (So: four films, for the completists.) Producer Peter Aalbæk Jensen said earlier this year that the first film covers "her childhood and adolescence. The second part will deal with her adulthood."
Trier plans to shoot in Germany this September.
And while we'll wait to see just which actors go for the sort of full-on explicit physical performance that Gainsbourg gave in Antichrist, we know that LaBeouf is willing to do a full-frontal reveal, as shown by his performance in the NSFW Sigur Ros video released in June.
NYMPHOMANIAC is the light and poetic story of a woman's erotic journey from birth to the age of 50 as told by the main character, the self-diagnosed nymphomaniac, Joe. On a cold winter's evening Seligman, an old bachelor, finds Joe semi-unconscious and beaten up in an alleyway. After bringing her to his flat he sees to her wounds while trying to understand how things could have gone so wrong for her. He listens intently as she over the next 8 chapters recounts the lushly branched-out and multifaceted story of her life, rich in associations and interjecting incidents.