'3, 2, 1... Frankie Go Boom' Trailer - Sex, Lies, Videotape, And Female Ron Perlman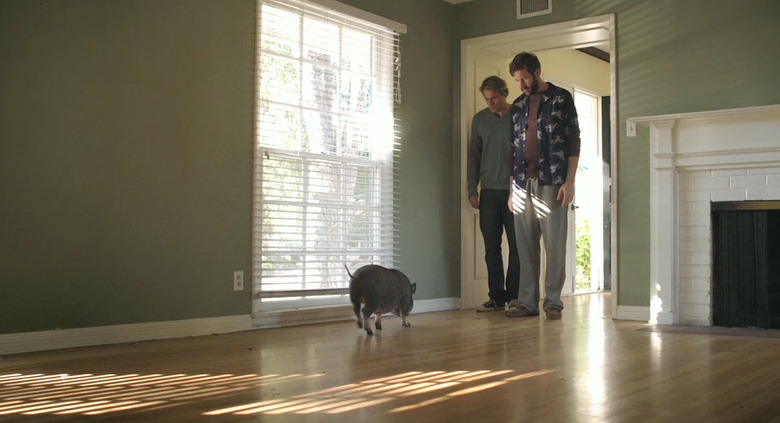 If the title character of 3, 2, 1... Frankie Go Boom looks damn close to blowing a fuse, well, you might too if you had to put up with his problems. Played by Charlie Hunnam, Frankie is an aspiring novelist who's spent his entire life suffering humiliation at the hands of his ne'er-do-well big brother Bruce (Chris O'Dowd).
When Bruce finally gets sober, Frankie hopes things will have changed between them. But sobriety hasn't made Bruce any less of an a**hole, and he secretly films Frankie having an awkward one-night stand. Soon, the brothers find themselves on an epically strange and desperate journey to keep the tape from falling into the wrong hands. Lizzy Caplan, Chris Noth, and Whitney Cummings also star, but it's Hunnam's Sons of Anarchy co-star Ron Perlman you'll want to keep an eye out for. He'll be the one stealing scenes in eyeshadow and a lacy satin slip. Really. Watch the trailer after the jump.
Raunchy indie comedies aren't hard to come by, but this one seems to take the absurdity to a whole new level. Frank and Bruce's relationship looks plenty dysfunctional even before a sex tape, a Charlie Sheen-esque Mr. Big, and his projectile-vomiting pet pig get involved. Toss in the rather surprising sight of Perlman as a post-op trans woman, and this truly becomes one of the more outlandish comedy trailers we've seen in a while.
And yet, 3, 2, 1... Frankie Go Boom doesn't actually look all that unconventional. If you dig the cast's previous comedy projects, e.g., Caplan's Party Down, Hunnam's Undeclared, and/or O'Dowd's The IT Crowd, you'll probably find this movie easy to swallow. (Though Hunnam and O'Dowd's very iffy American accents may be another matter.) Reviews out of SXSW were moderately positive, with Perlman's understated performance singled out for particular praise.
Directed by Jordan Roberts, 3, 2, 1... Frankie Go Boom hits VOD September 10 and theaters October 12.