'Smurfs' Producer Will Now Also Turn ALF Into A CG/Live-Action Hybrid For Sony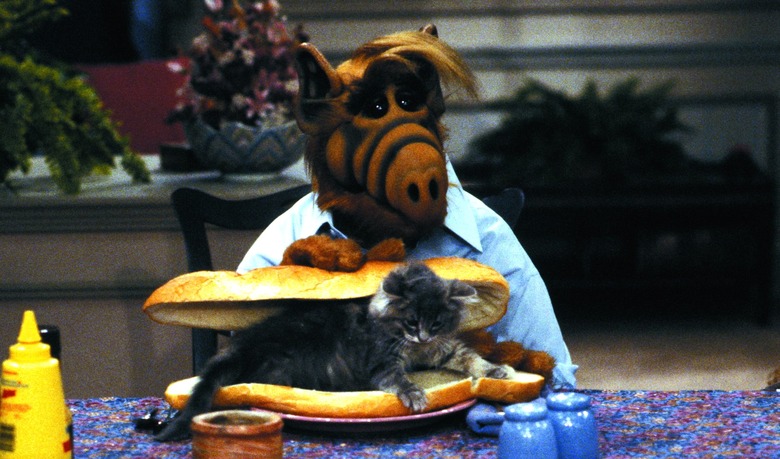 Around these parts, reactions to this spring's
that puppeteer Paul Fusco was looking to get an ALF movie off the ground ranged from mild eye-rolling to tentative curiosity. In executive offices around Hollywood, however, the responses were apparently rather more enthusiastic.
Sony Pictures Animation has just finalized a deal for the movie rights to the classic sitcom, with the intention of developing it into a CG / live-action hybrid feature. While it's too soon to judge much of anything about the project, the fact that this is the same outfit behind those recent Smurfs movies is maybe not the world's most promising sign. More after the jump.
Fusco, who controlled and voiced the ALF character on the TV series, is expected to reprise his role in the new film. Since it'll use CG, however, he presumably won't have to pick up his puppeting duties again. Fusco will also produce, along with show creator Tom Patchett and Smurfs producer Jordan Kerner. No writers or directors are attached at this time.
There's no word yet on what the plotline might be, but during an interview with
a few months back Fusco opened up about what he'd like to see happen to the character:
ALF could be more outspoken now than ever, because the world is a whole different place than the '80s. And I think the character still stands up and certainly has more to say now than ever. I think we would approach it in a fresh way. I don't think we would duplicate the TV show, but I think we would maybe put it in a storyline where we would explain how ALF got here and put him with a new family and let the character speak for himself.
Fusco also pointed out during the interview that ALF was more of a partier early in the series, before NBC pushed back and demanded he get more family-friendly. In that light, ALF could actually be more reminiscent of Universal's Ted than Sony's own Smurfs franchise. For the sake of ALF's now grown-up fans, let's hope that turns out to be the case.