Jimmy Fallon Won't Host The Oscars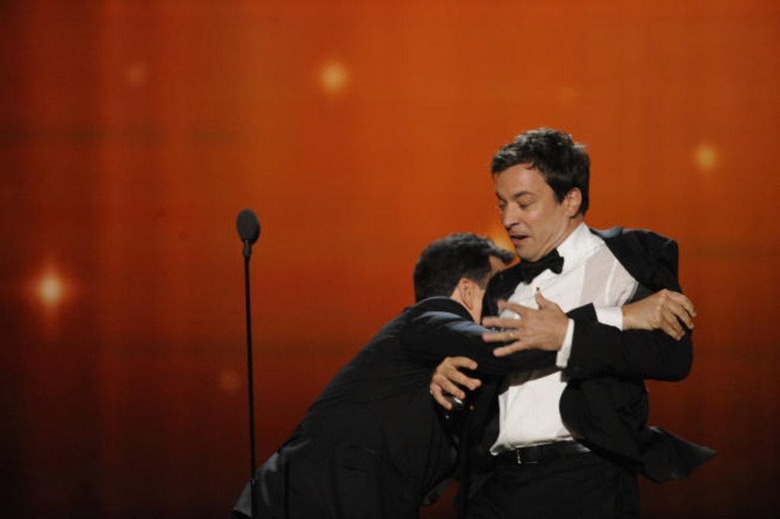 Intriguing as the idea of Jimmy Fallon hosting the 2013 Academy Awards was, one major pitfall was obvious from the moment we learned about the talks. Namely, the fact that the Oscars telecast is set to air on ABC — which has a talk show, Jimmy Kimmel Live!, that directly competes with Fallon's own NBC series Late Night with Jimmy Fallon. While ABC has no contractual authority over the Academy's choice of host, it seemed unlikely that the AMPAS would risk pissing off a network that forks over $70 million for broadcast rights each year.
So it's unsurprising, if a little disappointing, that Fallon's no longer up for the hosting gig. Earlier this week, word got out that the conversations between Fallon and AMPAS had stalled, and the TV personality confirmed as much to Matt Lauer during the Today show this morning. Read more after the jump.
Fallon did not offer a reason, but it's no secret that ABC has been less than thrilled with the idea of Fallon hosting. ABC's Kimmel can't do the Oscars anyway, because his Emmy hosting contract precludes him from also taking the Oscar job. Even so, ABC was understandably loath to boost its competitor, and Kimmel himself likely wouldn't have been too pleased to see his rival snapping up the high-profile job.
Unfortunately, this leaves the AMPAS back at square one in their search for a new host. Between his experience hosting the 2010 Emmys and his (relatively) youthful fan base, Fallon could've been an ideal pick for the job. It'll be interesting to see whether the Academy looks for another individual with similar appeal, or decides to go in a different direction altogether. Meanwhile, Lorne Michaels may still be on board to help them out — ABC reportedly has no objection to his producing the show, and as far as we know he remains in the running.
Watch the Lauer interview below (via LA Times):
Visit NBCNews.com for breaking news, world news, and news about the economy