Superhero Bits: The Dark Knight Rises, Iron Man 3, The Avengers, Guardians Of The Galaxy, Judge Dredd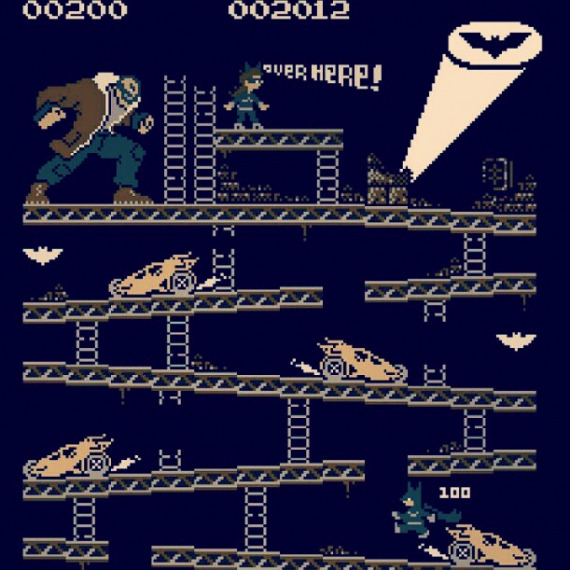 Was Jeremy Renner dissatisfied with his role in The Avengers? Who was President Obama's favorite actor in The Dark Knight Rises? Has Call Me Maybe made the switch to the superhero genre? Which stunt, captured on the set of The Dark Knight Rises, didn't make it into the final film? When might The Avengers 2 be released? Where is Iron Man 3 shooting this weekend? Read about all of this and more in today's Superhero Bits.
Speaking with the LA Times Hero Complex, Jeremy Renner seemed disappointed he didn't really get to play good guy Hawkeye in most of The Avengers, but he's hoping to explore it more:
At the end of the day, 90% of the movie, I'm not the character I signed on to play. I'm literally in there for two minutes, and then all of a sudden... All I could really work on was the physical part of it all, because that didn't change. That was just the biggest challenge to overcome in playing the guy. Also, we're pretty much introducing a new superhero character to everyone in a movie where there's a thousand superheroes. So there's not a lot of back story or understanding we can really tell about who Clint Barton is, or Hawkeye, and is he working for SHIELD or not. There's a lot of unanswered questions, even for me. And I was OK with that. At least I was still in the movie. And I was glad for that.
Wesley Freitas directed this Carly Rae Jepsen/Dark Knight Rises mash-up that's pretty damn clever. Thanks to Unique Daily.
Iron Man 3 filming is still going strong in Wilmington, North Carolina. Friday they're at the National Gypsum and Monday at the Port of Wilmington. On Location Vacation has specifics.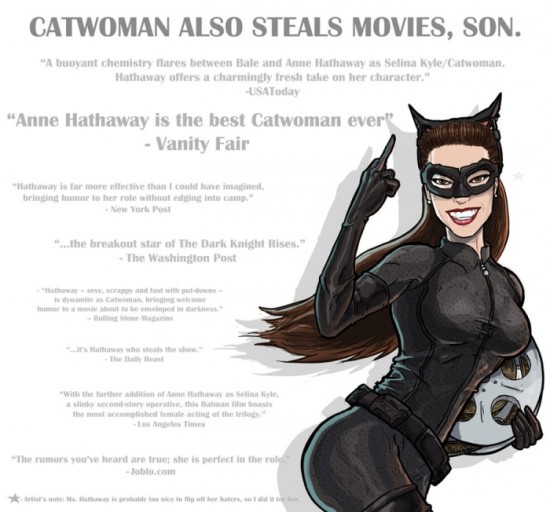 Kinjin Joe (via Batman on Film) posted this funny Catwoman poster for The Dark Knight Rises.President Obama would agree with the above thoughts, according to Deadline.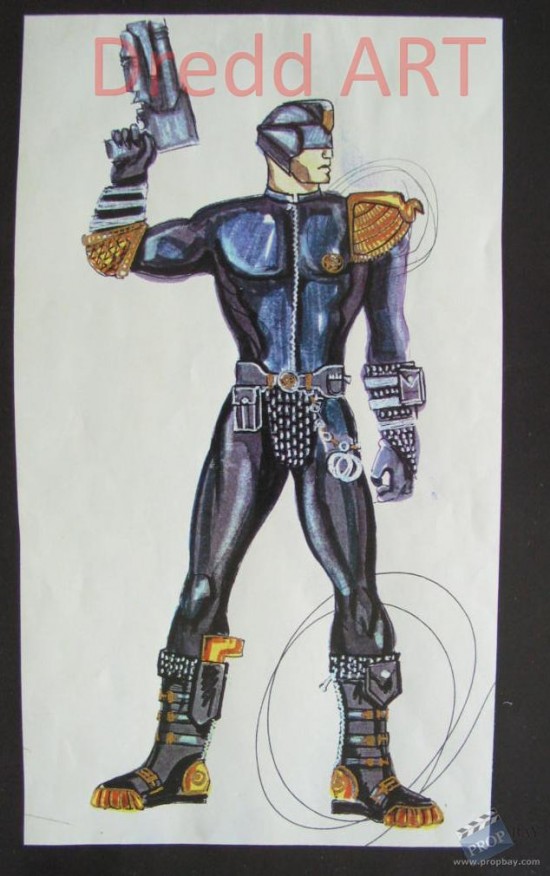 PropBay (via Comic Book Movie) posted Gianni Versace's original sketches for the 1995 Judge Dredd movie. And now a friendly reminder, Dredd 3D opens next month.
The BBC will make a documentary about the Colorado shootings with the title: The Batman Shootings.
Due to the amount of graphics and images included in Superhero Bits, we have to split this post over THREE pages. Click the link above to continue to the second page of Superhero Bits.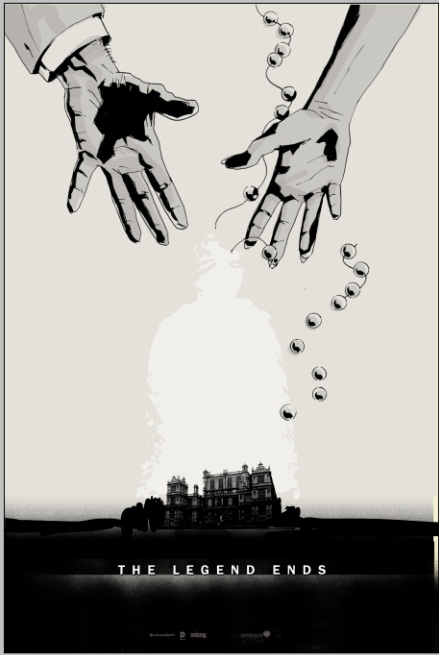 Collider did an interview with comic book artist Jock, who shared some of his early sketches for his Mondo Dark Knight Rises poster.
An eagle-eyed /Film reader, who prefers to be kept anonymous, noticed that one of the major stunts shot on the set of The Dark Knight Rises was not used in the movie. To cover it, Christopher Nolan just used the same footage of a Tumbler wreck twice. Check out the GIF evidence here.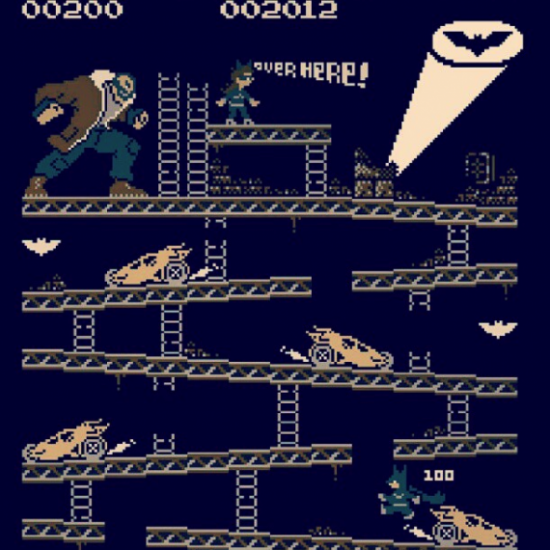 ScreenRant posted this great Donkey Kong/Dark Knight Rises mash-up.
Yes, we're still talking about this. What Culture lists their five problems with the Dark Knight Rises plot.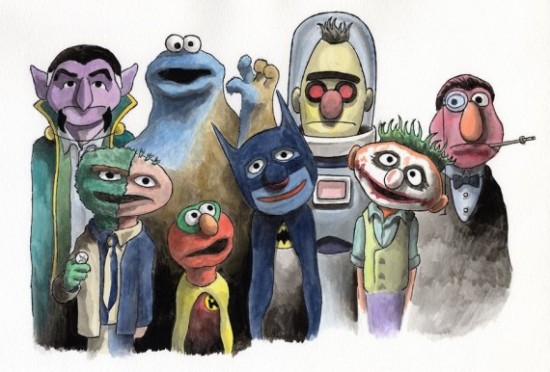 Matthew Benkner (via ScreenRant) did this Sesame Street Batman mashup.Vulture caught up with the creators of Guardians of the Galaxy to talk about how the characters might fit into the Marvel Universe.
Where do you go if you don't like Superhero Movies? This video from Movies.com has the answer. Features NSFW language.
The conversation continues as to where the Batman movies go from here. Now Entertainment Weekly weighs in and they say Hush.
Due to the amount of graphics and images included in Superhero Bits, we have to split this post over THREE pages. Click the link above to continue to the third page of Superhero Bits.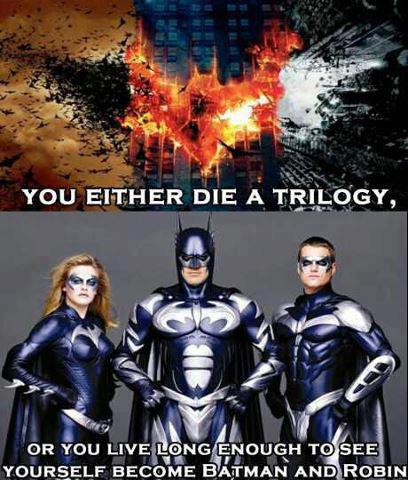 Funny meme from Batman On Film.
HitFix picks 10 X-Men cameos they'd like to see in X-Men: Days of Future Past.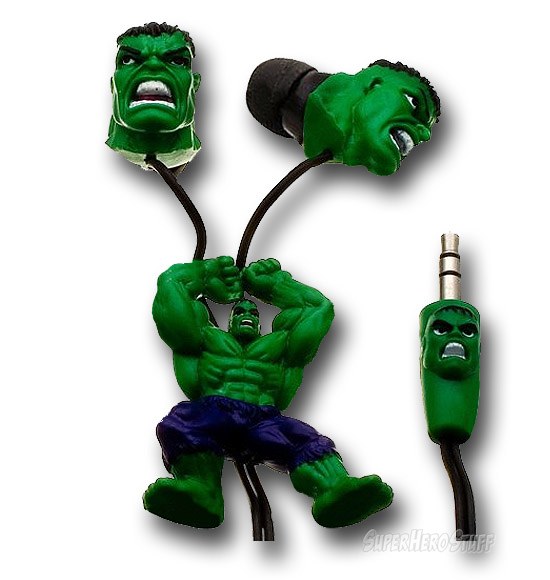 Superhero Stuff (via Nerd Approved) has some geeky Hulk and Spider-Man earbuds.Movies.com believes The Avengers 2 will be released May 1, 2015.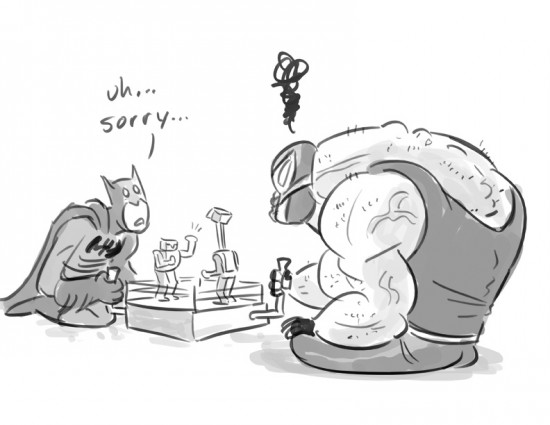 During a Reddit AMA, Nickelodeon storyboard artist "thewondercat" drew this great Bane vs. Batman image.
Ranker.com has a chilling piece on real life criminals who shared characteristics with Batman villains.