Reboot Bits: Kevin Eastman Talks 'Ninja Turtles;' Jean-Claude Van Damme Wants In On 'Bloodsport,' Plus 'Masters Of The Universe,' 'Total Recall'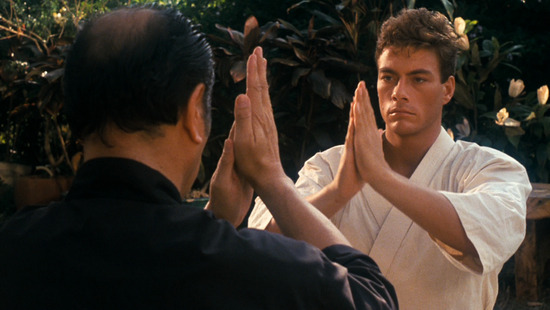 Remakes have become so common that barely a day goes by without updates on projects that seek to revitalize or reuse proven or existing stories. Today the list of remake news involves a couple of '80s action mainstays talking about new versions of their old fims, and a couple other odds and ends.
Kevin Eastman discusses the delay for Ninja Turtles,
Jean-Claude Van Damme wants to be in the Bloodsport remake.
Dolph Lundgren shrugs and says "sure," when asked about the new Masters of the Universe movie,
and we've got concept art from the recent Total Recall.
First up, there's Ninja Turtles, the Jonathan Liebesman-directed update/redo of the Teenage Mutant Ninja Turtles, being backed by Michael Bay's Platinum Dunes. The film was delayed earlier this year, reportedly so that more work could be done on the script. Of that delay, TMNT co-creator Kevin Eastman told CBR,
Essentially they pushed it back for two reasons: One is the director, Jonathan Liebesman, wanted to make sure he could do the effects to the level he wants them at, and the fight scenes to the way they should be. Also, their release date is almost exactly on the 30th anniversary. May 5, 1984 is when the first Turtles comic came out. May 16, 2014, is almost exactly 30 years after. So basically it's an anniversary movie now... I talked to [producer] Scott Mednick yesterday, and he's seen the most recent 50 [script] pages and said it's as good as the last version — they've really knocked it out of the park.
Eastman sounds like he's closely involved with the film, as he says he's working with Liebesman, Mednick and the writers, Josh Appelbaum and André Nemec, "doing sketches, drawings and character designs, bouncing stuff around with the writers, talking with the director and the producers — I'm actively involved."
A remake of Bloodsport, the mid-'80s martial arts film that saw Jean-Claude Van Damme taking part in the Kumite, an underground fight competition, has been in development for a while. While promoting The Expendables 2, Van Damme was asked about taking part in the remake. JCVD told NextMovie,
I want to be in the film as a trainer and I don't think the writer wants [me] to ... he knows that 'Bloodsport' is a big film so he wants to get credit with all of that — you know what I'm saying? [ed: actually, no, we don't. but go on.] ... The remake, I would love to be in it. It's kind of painful, but maybe they'll change their minds. That would be great because I can still kick better than anybody here today.
Meanwhile, there's also a new Masters of the Universe movie in development, and on another Expendables 2 promo stint, the original He-Man, Dolph Lundgren, was asked about being part of the new take. He didn't scoff, but he also doesn't seem to be all that excited about it. Rather than reading quotes, see the full context of his response in the IGN video below:
Finally, here's some concept art for the Len Wiseman Total Recall remake. I don't have too many good things to say about the film, but the design was sometimes impressive, and it wasn't a bad looking film overall. A better way to see some of the details is this set of concept art, which shows the far-future London of the movie.
See more at Kotaku, and look for the weird easter egg in one of the images below. If you can't find it, check the Kotaku comments.