'Trouble With The Curve' Trailer: Still Crotchety After All These Years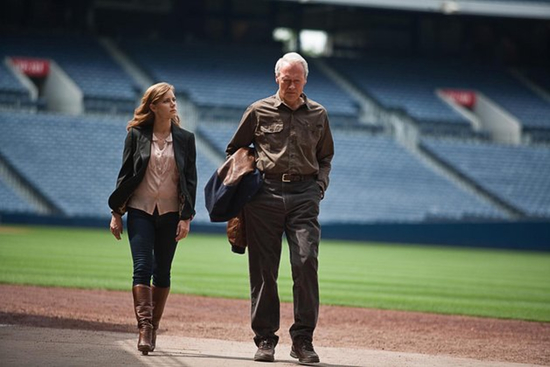 Clint Eastwood came out of semi-retirement as an actor to star in Trouble With the Curve, the directorial debut of his long-time production partner Robert Lorenz. Eastwood plays an aging baseball scout who is on a trip to check out a new player. But his eyesight is going — cue some drama right there — and his slightly estranged daughter (Amy Adams) joins him on the scout.
The basic premise sounds like a familiar, relatively safe one, and this first trailer for the film doesn't challenge that idea. Eastwood's persona here looks just a bit softer than his "git off my lawn!" attitude from Gran Torino, but this is still the sort of character we expect to see the star play at this point. Adams is more than strong enough to take him on, and Justin Timberlake looks gently appealing as another scout who has romantic intentions towards Adams.
There's also just a bit of Moneyball here, as Eastwood gets to espouse the old approach to evaluating baseball players. Matthew Lillard looks like he gets to be the  young turk in the Braves organization, and John Goodman is the old friend of Eastwood's who is still pulling for the old coot. All in all, it looks like a time-passing family drama with a little romantic and comedic angle, and there's nothing wrong with that.
Yahoo has the trailer. Trouble With the Curve opens on September 28.
SYN