Concept Art: 'Neuromancer,' Disney's 'Frozen' And 'The Avengers' Opening/Closing Title Sequences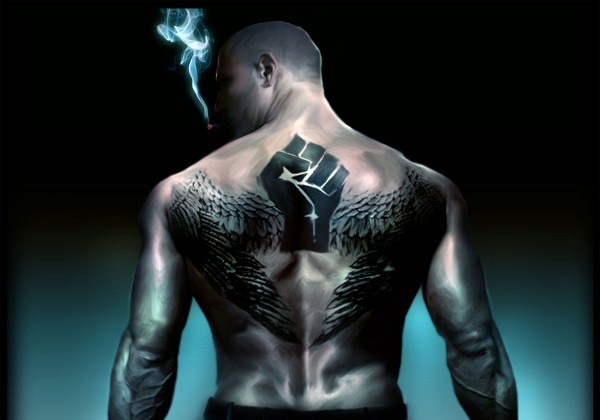 You're about to get a glimpse into the process of three projects in radically different stages of development. First there's Neuromancer, based on the 1984 cyberpunk novel from William Gibson, which is in the early stages of pre-production. Next there's Disney's Frozen, the company's 2013 animated musical which is currently being animated. Finally there's The Avengers, the year's most successful movie, which hits the home market in September.
After the jump, you can see concept art from all three projects and read much more about them.
Here are all the images. We'll source and explain each below.
The top two are from Neuromancer, an adaptation of the William Gibson novel about a hacker named Case whose life is changed when he's offered a job by the mysterious Armitage. Mark Wahlberg and Liam Neeson have each been offered a role, a fact that's confirmed on the GFM Films website where the first image originated. The second image, by Amro Attia, was up a few months ago, according to Bleeding Cool. There's no additional update on the film outside of the "pay or play" deals we heard about last month, but, if things work out Neuromancer still won't likely see the light of day until 2014.
Thanks to io9 for the heads up.
Next up are four images from Disney's Frozen, found on DisneyFandom, via Collider. These are some early sketches of the 2013 animated feature, directed by Chris Buck featuring music by Robert and Kristen Lopez (The Book of Mormon, Avenue Q). The film follows a young girl named Anna (Kristen Bell) who teams up with a young man named Kristoff to search for her sister, The Ice Queen (Idina Menzel), hopping to end an evil spell that's resulted in kind of an ice age.
It's not exactly clear which characters are above (though it's likely the Ice Queen, Anna and Kristoff) but you get a good idea of how the film is beginning to look in its early stages – very classic, Disney-style animated. Frozen is set for release November 27, 2013.
Finally, The Art of the Title (via CBM) has a new video focusing on alternative visions of the opening title and closing credits to Joss Whedon's The Avengers. The final four images above are just examples, there's much more in the video at the above link.