First Official Image Of Daniel Day-Lewis In Steven Spielberg's 'Lincoln'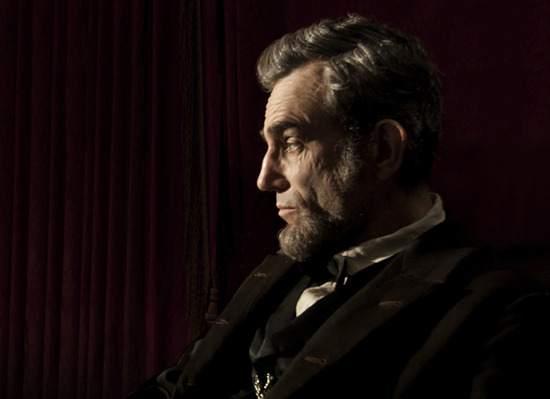 Here's what many people have been waiting to see since Steven Spielberg cast Daniel Day-Lewis in his presidential biopic Lincoln: an official shot of Lewis in costume and makeup as our sixteenth president. He looks fantastic — almost eerily like our image of the man — pictured in what could well be his seat at the Ford Theater, where John Wilkes Booth would take Lincoln's life only minutes later.
The film is based on the book Team of Rivals by Doris Kearns Goodwin, which chronicles Lincoln's often combative relationship with his combative cabinet, especially in the last months of his life, when he was attempting to navigate the aftermath of the Civil War and the end of slavery. This image captures Lincoln's famously contemplative character; see the full shot below.
EW has the image, and quotes Spielberg explaining that the actor's famously deep immersion in the role was in play here, but perhaps not to tabloid extremes:
Daniel was always conscious of his contemporary surroundings. Daniel never went into a fugue state. He did not channel Lincoln. All that stuff is just more about gossip than it is about technique.
Spielberg also explains how the film opens,
Our movie is really about a working leader who must make tough decisions and get things done in the face of overwhelming opposition... [The film begins with] Lincoln's realization that the Emancipation Proclamation, the thing he is most known for, was simply a war powers act that would easily be struck down by any number of lawyers after the cessation of hostilities after the Civil War. He needed to abolish slavery by constitutional measure — and that's where we start.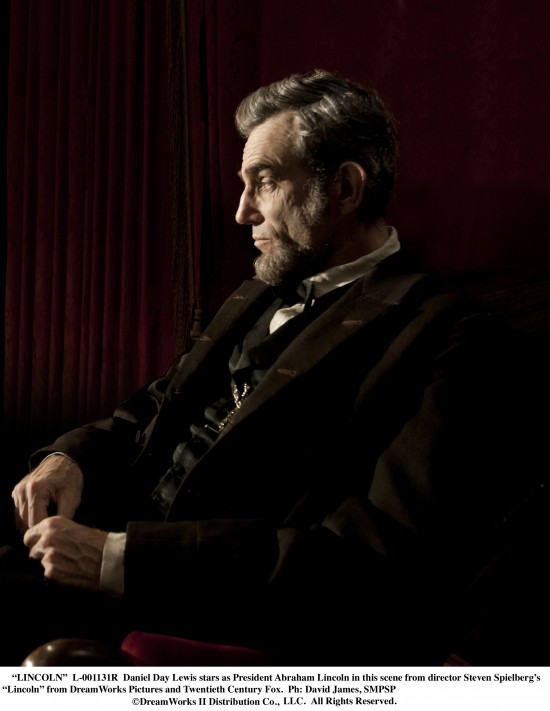 Lincoln also features Sally Field, Joseph Gordon-Levitt, Gulliver McGrath, David Strathairn, Tommy Lee Jones, with Jackie Earle Haley, Jared Harris, Lee Pace, James Spader, John Hawkes, Bruce McGill, Adam Driver, Walton Goggins, Michael Stuhlbarg, Tim Blake Nelson, David Oyelowo and Hal Holbrook. It opens on November 9.