Michael K. Williams Heads To Detroit For 'RoboCop'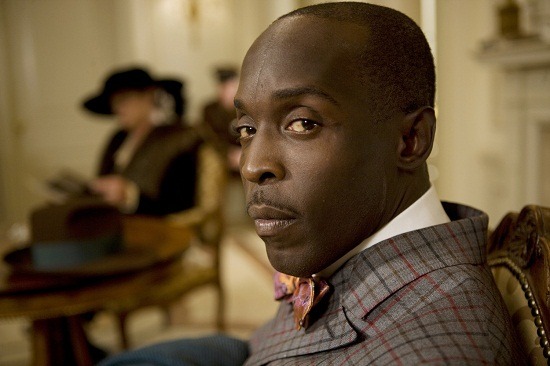 We hoped at one point that Michael K. Williams, aka Omar from The Wire, might end up playing the title role in Quentin Tarantino's Django Unchained. That didn't happen, but it hasn't stopped him from getting other great work. In addition to his recurring role on HBO's Boardwalk Empire, Williams ended up doing a stint on Community, and has a part in Steve McQueen's new film Twelve Years a Slave.
And now he's going to Detroit (well, actually Toronto, but sshh) for Jose Padilha's remake of RoboCop.
THR says that Williams is in talks to play the partner of Joel Kinnaman's character Alex Murphy — Murphy is killed, or nearly killed, but parts of him are revived as ingredients in the cybernetic law machine RoboCop. Fans of the original know that this means Williams is the new Nancy Allen, as Allen played Murphy's partner in Paul Verhoeven's original film.
Williams is the latest addition to a top-notch cast that also includes Hugh Laurie as the villain, Samuel L. Jackson as a media mogul, Gary Oldman as the man who creates RoboCop, and appearances from Jennifer Ehle, Jay Baruchel, Abbie Cornish and Jackie Earle Haley.
RoboCop is scheduled for an August 9, 2013 release.
In RoboCop, the year is 2029 and multinational conglomerate OmniCorp is at the center of robot technology. Their drones are winning American wars around the globe and now they want to bring this technology to the home front. Alex Murphy is a loving husband, father and good cop doing his best to stem the tide of crime and corruption in Detroit. After he is critically injured in the line of duty, OmniCorp utilizes their remarkable science of robotics to save Alex's life. He returns to the streets of his beloved city with amazing new abilities, but with issues a regular man has never had to face before.
Director José Padilha (Elite Squad) reimagines the tale of part man, part machine, all cop starring Joel Kinnaman (The Killing) as the title character, Gary Oldman (The Dark Knight Rises) as the scientist who creates RoboCop, and Samuel L. Jackson (The Avengers) as media mogul Pat Novak. RoboCop is being produced by Strike Entertainment's Marc Abraham and Eric Newman, with Eric Carraro as Executive Producer. The film is currently in pre-production and slated for a summer 2013 release.