First Look: Pixar's 'Toy Story' Short Film 'Partysaurus Rex'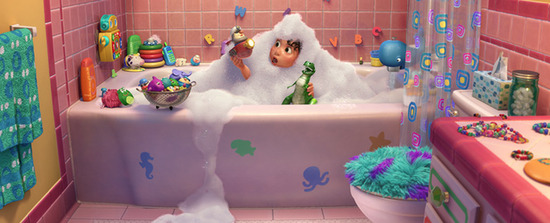 Rex the dinosaur gets to be the star, at last, of Pixar's upcoming Toy Story short Partysaurus Rex, which debuts in front of Finding Nemo 3D on September 14. The short sees Rex, in the home of new owner Bonnie (as per the end of Toy Story 3) coming in to his own during and after bath time. That's part of one first look, above, and there's another rave-tastic image below.
Wallace Shawn, who has voiced Rex since the character's first appearance, told EW,
He's sick of being the angel of goodness and sensibleness and caution and fear.He wants to stand on the side of pleasure and happiness and joy. ... I live this drama every day of my life!
Director Mark Walsh explained,
What I was going for was, you move to a new town and make new friends, and suddenly you think you have this chance where you can reinvent yourself. I love that Rex, in his sweetness, thinks he can reinvent who he is in the image of a party animal.