TV Bits: 'Arrested Development', 'Treme', 'Hannibal', 'Game Of Thrones', 'Homeland', 'Grimm', 'Sons Of Anarchy', Bryan Fuller, J.J. Abrams, Guillermo Del Toro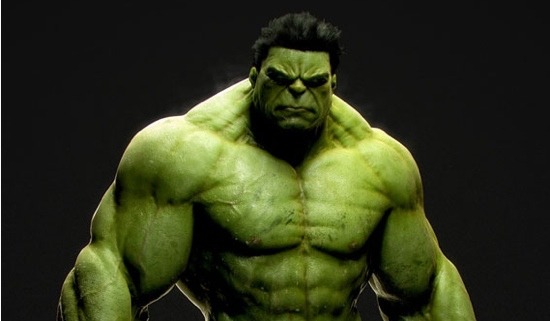 Today's TV Bits is jam-packed with geeky goodness. After the jump:
Arrested Development starts filming new episodes
New character and plot details emerge for NBC's Hannibal
Syfy and Bryan Fuller are adapting The Lotus Caves
Guillermo del Toro talks about Marvel's Hulk TV series
The Wire's McNulty was almost on Game of Thrones
Showtime has new promos for Season 2 of Homeland
Take a peek at the second season of NBC's Grimm
Watch a new trailer for Season 3 of HBO's Treme
NBC unwraps an extended preview for Revolution
Get a first look at Ashley Tisdale on Sons of Anarchy
All ten episodes of the new season will hit Netflix on an as yet undetermined date in 2013. Where the series will go beyond that remains unclear. The episodes were initially intended to bridge the gap between the original series and a big-screen sequel, but series creator Mitch Hurwitz has said that the show could continue on the small screen if the Netflix run does well. [Deadline]
Although it won't premiere until midseason, NBC's Hannibal is already very much on our radar thanks to its nifty premise and talented cast and crew. Created by Bryan Fuller (Dead Like Me, Pushing Daisies), the series picks up with FBI agent Will Graham (Hugh Dancy) and psychologist/cannibal Hannibal Lecter (Mads Mikkelsen) in the early days of their relationship. Laurence Fishburne and Caroline Dhavernas (Wonderfalls) round out the cast as FBI boss Jack Crawford and psych professor Alana Bloom, respectively.
So far, so good, but it's a pretty broad description of the series. Now a few more details have surfaced, including new info on the characters and plotline. Most interesting, at least to me, is their description of Dancy's Graham as "almost a Yankee take on Benedict Cumberbatch's Sherlock." On the one hand, Sherlock is a fantastic character. On the other, do we really need an American knockoff version of him? Head to Moviehole for more.
Well, if Hannibal doesn't work out for Bryan Fuller, he's got no shortage of other projects to turn his attention to. Fuller's also deep into the Munsters reboot Mockingbird Lane, also for NBC, and he's now added a new Syfy pilot to his to-do list on top of that. The network has just ordered a 90-minute pilot for High Moon, an adaptation of John Christopher's 1969 young adult sci-fi novel The Lotus Caves.
The series unfolds in a future in which Earth's countries have set up mining colonies on the moon. Their plans take an unexpected turn, however, when a new life form is discovered. Jim Danger Gray (Pushing Daisies, Crossing Jordan) is set to write the pilot, and will also executive produce alongside Fuller and Robert Halmi Sr. [Deadline]
Development on Guillermo del Toro's live-action Hulk TV series for ABC has been very slow the past couple years, but now that Mark Ruffalo's turn in The Avengers has renewed interest in the character it looks like Marvel's eager to pick up the pace again. Del Toro gave this update to Collider in a recent interview:
I had one meeting with Marvel after Avengers and we had a very, very good chat. We have a writer that we want to bring on board, a very, very concrete name. I can't reveal it, but we want to wait for that writer. It's a writer who is otherwise engaged. So right now we are in a holding pattern until that writer becomes free. Then we're going to do a new draft of the script.
Personally, I've been holding out hope that Ruffalo would get his own cinematic feature. But a del Toro-produced TV series sounds like its own kind of awesome, even without Ruffalo's involvement. We'll be keeping a close watch on this one. [via Screen Rant]
In some parallel universe, The Wire star Dominic West is in Iceland shooting Season 3 of Game of Thrones. In this one, however, he can only express his regret that he was unable to take the part.
"I was offered something on Game of Thrones and unfortunately, I hadn't seen it, but my nephew and his father said, 'Gosh, Game of Thrones is the only great show on!' And I felt terrible, because I'd just turned them down," West said in a recent interview. He cited his desire to stay close to his family in London as his reason for passing on the role.
While West couldn't recall the name of the part he'd been offered, he revealed that it would've been a "substantial" one with about six months of shooting in Reykjavik. Those details suggest he was up for the role of King Beyond the Wall Mance Rayder, which remains unfilled at this time. Read more at HuffPo TV.
Where the last Homeland teaser we featured in this space saw Claire Danes' Carrie Mathison losing her mind, a pair of new ones delve into the mind of Nick Brody (Damian Lewis).
Homeland returns to Showtime for its second season on Sunday, September 30. [via TV Overmind]
After over a year off the air, the acclaimed New Orleans-set drama Treme is finally set to come back to HBO for its third season this fall. Watch the new trailer below:
Treme kicks off Sunday, September 23. [HBO]
The upcoming second season of Grimm promises to see Detective Nick Burkhardt (David Giuntoli) really coming into his own as a hunter of the supernatural, and NBC's got a new four-minute peek to give us a hint of what's in store.
New episodes of Grimm will air Mondays starting August 13 for three weeks, before moving back into its usual Friday evening timeslot on September 14. [via TV Overmind]
NBC has also unveiled an extended preview of its J.J. Abrams-produced, Jon Favreau-directed Revolution, about a post-apocalyptic universe with no power. Billy Burke, Giancarlo Esposito, and Elizabeth Mitchell star (along with many others).

Revolution makes its debut Sunday, September 17. [Coming Soon]
Former High School Musical star Ashley Tisdale is shaking up her Disney image in a big way with a juicy guest role on the new season of Sons of Anarchy. Tisdale will appear in at least two episodes as Emma Jean, "a high-priced escort who complicates SAMCRO's life." The first glimpse of Tisdale on the FX drama's set shows Emma Jean clinging on to a frowny Jax (Charlie Hunnam) as he zips her around town.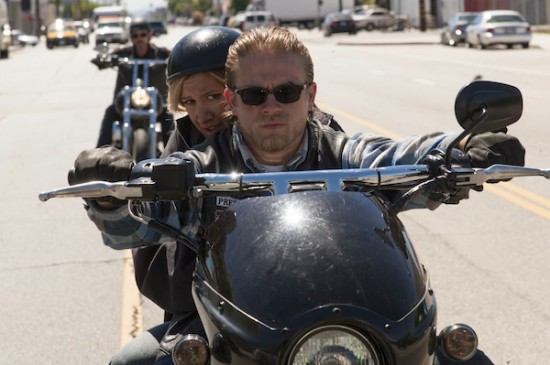 The fifth season of Sons of Anarchy debuts Tuesday, September 11. [TV Line]