'The Master' Early Buzz: Sneak Screening Yields Raves For Actors, Comments On "Fever Dream" Tone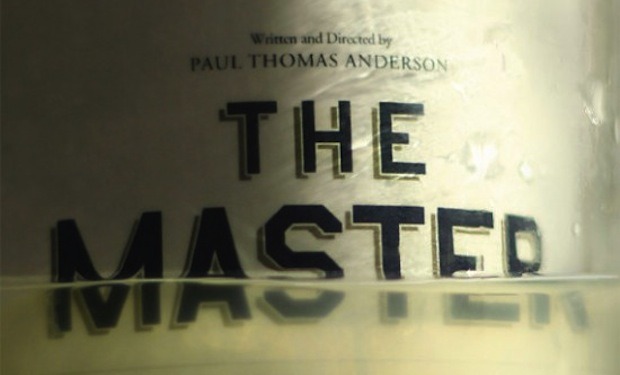 Here's why you should go out to the movies on a Friday evening: last night at the Aero, in Santa Monica, audiences who turned up to see The Shining were told that Kubrick's movie would be followed by a surprise double-feature. That second film was Paul Thomas Anderson's The Master, and it was projected in 70mm.
What a cool move on Anderson's part — not a test screening, but just a low-key surprise for people who were in the right place at the right time. (This is a bit like his choice to premiere There Will Be Blood at Fantastic Fest, when that festival was a lot smaller.) Opinions are starting to filter out about the movie, and while they're largely from people we don't know — so we don't know their taste in film in general — there are some comments that you'll probably want to read.
In Contention was first on the scene with a report of the screening, so thanks to them right off the bat.
Jeff Wells got an email from someone named "Bobfilm" who was at the screening, and he printed the most useful take on it so far:
I'm still digesting everything I saw, but it was pretty amazing. It was like a strange fever dream. [But] not audience friendly AT ALL. An ambiguous ending and not one likable character. And without any 'milkshake' lines, it probably won't have the breakthrough that There Will Be Blood had... There are three or four scenes between Phoenix and Hoffman that are barn burners. It also containts the best work Amy Adams has ever done... Phoenix WILL win Best Actor unless Daniel Day Lewis blows us away with [his] Lincoln performance. This is Raging Bull territory for him. Believe it or not, his performance is stranger than that fake doc he made.
And The Playlist collected tweets from 16-year-old cinephile Victor Escobar:
"Don't want to say more than a few words about it but it is an all around excellent film. I've yet to see one bad PSH performance but this one may be his best. 2hrs 10 min. Will get nods for Picture. Good chance of winning original screenplay and acting awards. If it were me, I'd put them both in the Best Actor category but if one them is getting the supporting nod, its Hoffman. It will have its fair share of detractors and its not a "safe" choice. If you guys can, see The Master in 70 mm. Looked gorgeous and its the way P.T Anderson wants you to see it. "
Here are some more tweet reactions, some of which are, sadly, also obsessed with predicting whether or not the film will win awards:
@TotallySketch "Just saw 'The Master'. A movie has never made me feel quite like this one did. I can't describe it or even rate it. I am speechless."
@aaldere1 "The Master was amazing. Oscars all over this one."
@LoganDoe  "@prfessorbigsock Hoffman is one of the finest actors alive. The Master is (more) proof. #themaster"
@pillowfightin "@cigsandredvines Saw The Master in 70mm at the Aero Santa Monica. Surprise screening after The Shining. Its like nothing yvever seen before."
@jessecrall "The Master: B+ hazy, meandering story with beautiful staging and headed by Phoenix's brilliant, year's-best performance. @kristapley"
@Super_Matts "THE MASTER is...interesting...I'll be thinking about it for days #THEMASTER70MM J Phoenix and P S Hoffman are out of this world"
The official premiere of The Master will be in Venice on September 1st, then it will hit TIFF, and go into in limited release on September 14th with expansion to follow.