/Film Exclusive: 'Citizen Kane,' 'Gone With The Wind' And 'The Big Sleep' Get Posters In San Francisco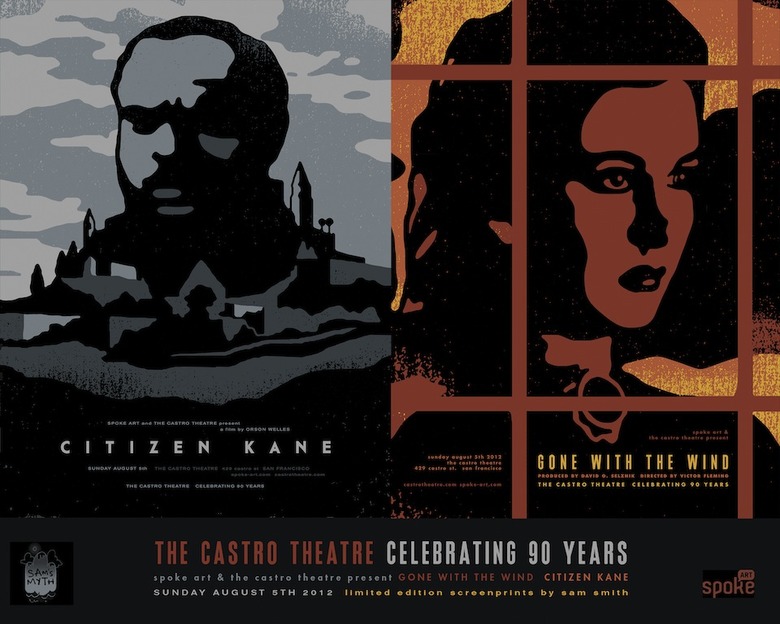 It hasn't been the best week for Charles Foster Kane, as he lost the top spot on the Sight and Sound list of All-Time Best Films. But he'll travel to San Francisco for screenings at the great Castro Theater. As a bonus, three artists have reinterpreted his film, the all-time great Citizen Kane, in poster form. It's gonna be a great weekend at the movies.
Spoke Art is releasing Citizen Kane posters by Sam Smith, Chuck Sperry and Adam Juresko as well as The Big Sleep by Sperry and Gone with the Wind by Smith online today and at the theater this weekend. Check them all out after the jump.
Here are the posters – mouse over each for the artist name.
All of the prints art limited edition, signed and numbed silkscreens in editions of 100. Smith and Juresko's are $40 while Sperry's are $50. You can buy them online now at the Spoke Art shop or at the theater in San Francisco if you're in the area. Head here for this weekend's showtimes.
And if you actually go to the show, the Smith lobby card is an exclusive hand numbered giclee mini print that's being given away to the first 100 customers in person at the theatre this weekend.
For more on each artist, here are their respective websites:
Sam Smith: http://cargocollective.com/samsmyth
Chuck Sperry: http://chucksperry.net/
Adam Juresko: http://adamjuresko.com/home.html
We get so many interpretations of cult classics and new films, it's refreshing and somewhat fitting to get posters for all-time classics like Citizen Kane, Gone with the Wind and The Big Sleep, especially this week when we're talking about the best of all time. Cause, seriously, who is better than Orson Welles, Clark Gable and Humphrey Bogart?