Could Jimmy Fallon Be The 2013 Oscar Host?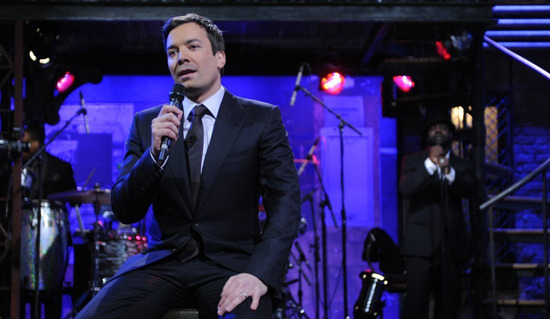 Questions spread quickly yesterday about whether or not Jimmy Fallon, the SNL vet and host of NBC's Late Night with Jimmy Fallon, would host the 2013 Oscar telecast. Indeed, Fallon was chosen by Tom Sherak, the recently departed head of the Motion Picture Academy, as the best candidate to host, with SNL producer Lorne Michaels picked to produce. Talks are ongoing with Fallon and Michaels, and there's a chance they'll end up getting the gig.
But there's a problem, as ABC broadcasts the Oscars, and the network isn't going to take kindly to Fallon, the chief rival to ABC's own show hosted by Jimmy Kimmel.
The LA Times reports that talks are taking place, and notes that ABC couldn't have Kimmel as Oscar host even if it wanted him, as he's already set to host the Emmy Awards this year, and contractually can't do the Oscar job as well. Curiously, ABC has no contractual right to veto the choice of Oscar host. The network's disapproval will register regardless, thanks to the money that passes between the network and AMPAS for the Oscar telecast.
Until we see how the talks shake out, we can speculate about whether or not Fallon is right for the gig. He's turned into a surprisingly solid late-night host, in part due to his staff's ability to book great musical guests, and for Fallon's ability to get luminaries like Bruce Springsteen to go along with extended gags. Fallon has done a good job hosting a big awards show in the past; he handled the 2010 Emmys well. Even as some of his talk-show persona seems unsuited for the Oscars, the Emmy gig proved that he can work with the format, and he might be a lot more fresh and entertaining than Billy Crystal's appearance this year.
But the final work now will be done by new AMPAS president Hawk Koch, who was elected to the position this past Tuesday.