As Warner Bros. Makes A 'Dark Tower' Decision, Russell Crowe Might Be The New Gunslinger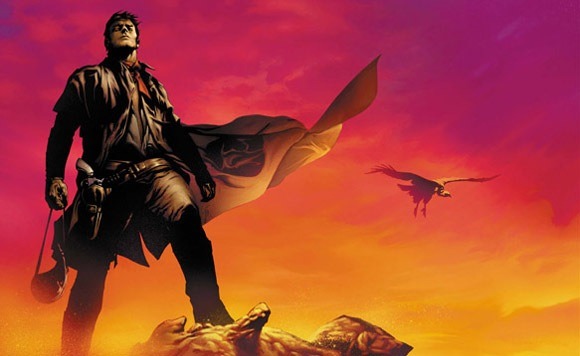 The multi-film and TV miniseries adaptation of Stephen King's epic novel cycle The Dark Tower isn't dead yet, and it could end up marking the reunion of director Ron Howard and his A Beautiful Mind star Russell Crowe. The latter spent a few years not making a big impact on screen, but he's got two big films next year: Man of Steel, in which he plays Superman's father Jor-El, and Darren Aronofsky's Noah, in which he plays the title character.
Now, as Warner Bros. receives Akiva Goldsman's latest script for the opening salvo in The Dark Tower project, and decides whether or not to move forward, Crowe is in Howard's sights to play the central character, the gunslinger Roland Deschain.
Deadline reports that within the next two weeks Warners will make a decision on whether to greenlight the very ambitious adaptation that was cut loose from Universal and developed without a studio until Warners started getting interested months ago.
Javier Bardem, who was attached to play Deschain for some time, through multiple stages of the difficult project, is no longer set for the role, says Deadline. And so Howard, Goldsman, and producer Brian Grazer are looking to Crowe. That ain't a bad choice. He doesn't offer the subtle intrigue that Bardem might have brought to the part, but it isn't at all difficult to see Crowe making the Gunslinger his own.
There's no paperwork to tie Crowe to the project now —  there's no official go code on The Dark Tower anyway, as mentioned, but reportedly he's the one that WB will be crunching numbers around as the studio decides whether or not to commit to adapting the sprawling series. Howard, Grazer and Goldsman are still planning to make three films and two short TV series to adapt King's books. (Guess that means that Warners likes him in the Superman film.)
There was talk at one point that HBO might be the broadcast home for the TV portion of the adaptation, and that seems like it continues to be a possibility, but there is no confirmation either way at this point. Once WB makes a decision either way, we're likely to get more news.