TV Bits: 'The Newsroom,' 'Doctor Who,' 'Mad Men,' 'Arrested Development,' 'Glee'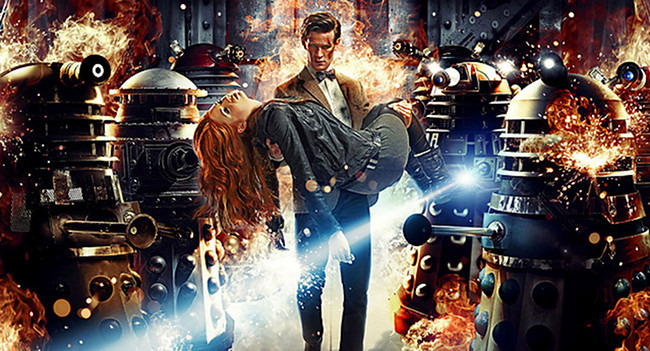 One of the most anticipated trailers of the year, one of the most controversial shows currently on air and updates on several popular programs all in this edition of TV Bits. After the jump read about the following:
Aaron Sorkin defended The Newsroom criticism and said the writing staff was not fired.
The seventh season of Doctor Who gets a brand new trailer.
Two more actors were added to the Mark Strong AMC show Low Winter Sun.
January Jones, Vincent Kartheiser, Elisabeth Moss and Christina Hendricks are all about to get raises for Mad Men.
Will Arnett loves the new Arrested Development season and talked a bit about its structure.
Check out a deleted scene from the third season of Glee.
Aaron Sorkin, head writer and creator of HBO's The Newsroom, was at the Television Critics Association event this week and found himself defending the show, much like his lead character. Sorkin assured everyone that the writing staff was not fired, as previously reported, he doesn't feel the show is at all sexist, and denied having a girlfriend in the writers room. You can head to Gawker to read his quotes but this is one of those odd cases of art imitating life, then re-imitating art.
Plastered on the cover of this week's Entertainment Weekly, Doctor Who is hotter than ever. Seems like the perfect time to release the trailer for the upcoming, seventh season. The below embed comes from Twitchfilm.
The upcoming AMC pilot, Low Winter Sun, just added two more actors. Ruben Santiago Hudson and Athena Karkanis have joined the Mark Strong led project, whose first episode will likely be directed by Ernest Dickerson. The show, which is based on a British show Strong also starred in, is about a cop who kills a fellow cop and gets drawn into the criminal underworld despite getting away with it. Thanks to Deadline.
AMC is also close to resigning Mad Men stars January Jones, Vincent Kartheiser, Elisabeth Moss and Christina Hendricks to lucrative new deals for two more seasons of the show. According to Deadline, their deals will likely see them each getting six digits per episode.
Will Arnett, aka Gob Bluth, spoke about the upcoming fourth season of Arrested Development at the Television Critics Associations. He said he has yet to shoot his scenes, but had read several scripts and was very happy for them. He also confirmed that the character-centric structure of the season doesn't mean other characters won't appear in each other's episodes and creator Mitch Hurwitz was in the process of figuring out shooting scheduled based around the cast's previous engagements. Read more at ScreenCrush.
Glee creator Ryan Murphy recently tweeted the below clip, which was finished but cut out of the third season of the hit, singing Fox show. Thanks to TV Line.