New Photos: Nathan Fillion, Amy Acker, And Alexis Denisof Banter In Joss Whedon's 'Much Ado About Nothing'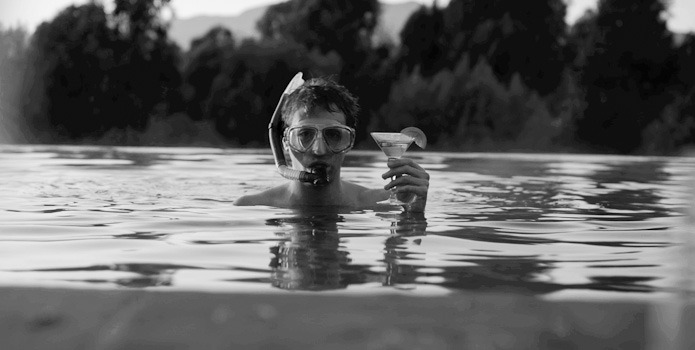 Trust Joss Whedon to go from the $220 million extravaganza that is The Avengers to a micro-budget indie adaptation of William Shakespeare. The filmmaker announced last fall that he'd secretly shot Much Ado About Nothing in just two weeks while taking a brief break from his work on his superhero flick, and it's now due to debut at the Toronto Film Festival next month.
Starring old Whedon favorites like Alexis Denisof, Amy Acker, Nathan Fillion, Sean Maher, Riki Lindholme, and Clark Gregg, Much Ado puts a modern-day spin on the classic romance while keeping the Bard's original dialogue. The first photos revealed from the project were in color, but this newer batch of stills should do a better job representing the film's black and white look. Check them out after the jump.
[via The Film Stage]
Whedon's been known to host Shakespeare readings for his friends in his Santa Monica home, and Much Ado reportedly came out of one of those informal events. Acker and Denisof play Beatrice and Benedick, a sharp-tongued pair who despise each other but wind up falling in love. They stand in stark contrast to the story's other prominent couple, the gentler Claudio (Fran Kranz) and Hero (Jillian Morgese).
It's an old, old story, but Shakespeare's endured all this time because his work is so open to interpretation. Whedon has said that he sees Much Ado as "a noir comedy," and he seems particularly taken with how "dark" the plotline really is.
"There's a lot of lying and ultimately, there's a real deconstruction of our notions of how love is supposed to operate and how courtship is supposed to operate," he observed at Comic-Con. "[Shakespeare] looks at it with a very cold eye, and manages to find redemptive romance in it anyway." At the same time, he notes that "the entire production is a love letter — to the text, to the cast, even to the house it's shot in." (Which, incidentally, happens to be his own house.)
Much Ado hasn't set a domestic release date yet. Let's just keep our fingers crossed that it'll secure distribution at TIFF, and that whoever picks it up will put it in theaters quickly.