'Bachelorette' Red-Band Trailer: Is That Really The Best Way To Get A Super-Fast Cab Ride?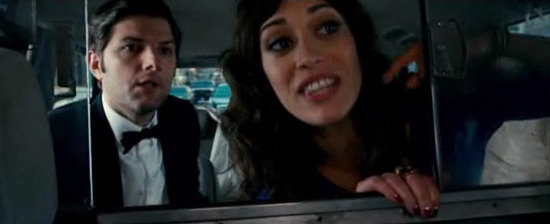 The latest female-driven R-rated comedy is Leslye Headland's film Bachelorette, which wouldn't mind finding some of last year's Bridesmaids audience. The film hit at Sundance and got some good buzz for being a little more dark than the Kristen Wiig film, without sparing any of the laughs.
A green-band trailer we saw a couple weeks back got the story across — Rebel Wilson is getting married and her old friends Kirsten Dunst, Lizzy Caplan, and Isla Fisher see the pre-wedding celebration as a chance to cut loose. Really loose. Guys like Kyle Bornheimer, Hayes MacArthur, James Marsden, and Adam Scott have moments, too, which as Angie noted, should keep the Party Down fans happy.
This red-band trailer won't tell you much of what the movie is about beyond the basic concept, but it does offer some dirty jokes that promise a lot about the comedy's tone, without seeming to give too much away.
There's a lot less story here than in the regular old general audiences trailer, but clearly the point of the red-band, as always, is to demonstrate that the movie gets dirty. With that in mind it is definitely successful, with Lizzy Caplan standing out (no surprise) as the most effective filthy character in the film.
Bachelorette will land on VOD August 10, and then hit theaters on September 7.
On the night before an old friend's wedding, three frisky bridesmaids go searching for a little fun but find much more than they bargained for. With lovely Becky (Rebel Wilson) set to marry her handsome sweetheart, Dale (Hayes MacArthur), the remaining members of her high school clique reunite for one last bachelorette bacchanal in the Big Apple. Regan (Kirsten Dunst) is an overachieving, ueber-Maid of Honor who's secretly smarting over the fact that she's not the first to marry, while Gena (Lizzy Caplan) is a whip-smart sarcastic who's actually a closet romantic, and Katie (Isla Fisher) is a ditzy beauty who loves the good life. But when Becky insists on keeping the bachelorette party tame, the women proceed with an after-hours celebration of their own.