Streaming Bits: Time Warner CEO Calls Cord-Cutting A Myth, Amazon Instant Video Comes To iPad, Apple TV Launches Hulu Plus App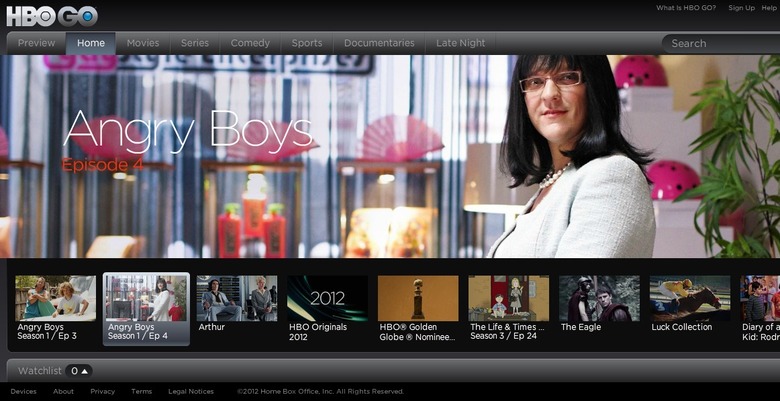 Thanks to the proliferation of digital services like Netflix, Hulu, iTunes, and Amazon Instant Video, it's easier now than ever to get your fill of TV without actually owning a TV. Unless, that is, you want to watch Game of Thrones or True Blood. HBO's been famously stubborn about not offering a standalone HBO Go service for non-subscribers, and Time Warner CEO Jeff Bewkes says that's not about to change anytime soon.
One reason for that, Bewkes says, is that cord-cutting is actually not all that prevalent. "[T]he whole idea that there's a lot of people out there that want to drop multichannel TV, and just have a Netflix or an HBO — that's not right," he told investors. "Look for the data, you won't find them." HBO's entire business model is built around the idea that people will pay for cable, and so far that assumption is paying off. AllThingsD reports that the combined subscriber base for HBO and Cinemax has increased by over 7 million in the past six months.
Nor is Netflix likely to become an option for those who'd like to get their Girls fix without adding to their monthly cable bill. "There are not talks going on between HBO and Netflix," he said to analysts. [Gizmodo, Deadline]
After the jump, some better news for those mythical cord-cutters as Apple TV adds Hulu Plus and the iPad adds Amazon Instant Video.
Apple TV owners won't need to update their software to get the Hulu Plus app — it should just appear on its own the next time the device is turned on. And for those who are still unsure about whether Hulu Plus is really and truly worth it? New users can sign up to try it out for one week free. [Apple Insider]
Meanwhile, Amazon's linking up with Apple as well. The online retailer has just released an app for its Amazon Instant Video service, which comes as part of a $79/year Amazon Prime subscription. (Prime also has non-digital benefits — it gets you free two-day shipping on all orders.)
Prime members can now watch content from any of Amazon's TV and movie streaming catalog at no additional cost, or download and save content they've purchased or rented from Amazon. For a more in-depth look at the app's features, head to Lifehacker.