TV Bits: 'American Horror Story', 'Girls', 'Parenthood', 'Hannibal', Chuck Lorre, Ricky Gervais, And More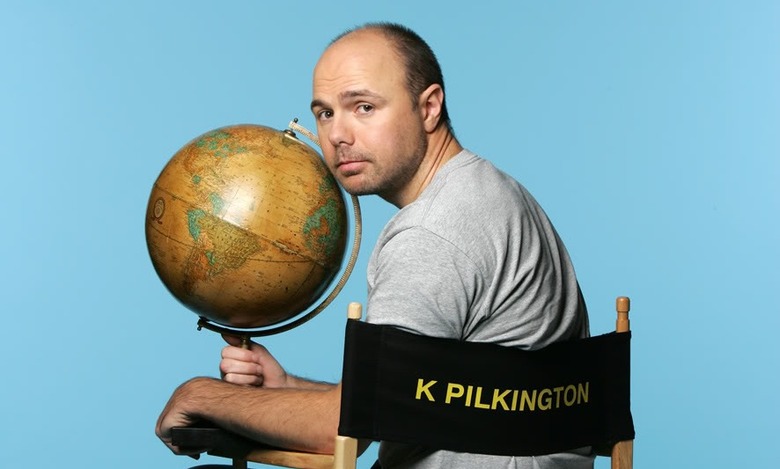 Alums of Friday Night Lights, Roswell, and Wonderfalls find new jobs in this edition of TV Bits. After the jump:
American Horror Story's second season gets titled
Shiri Appleby will romance Hannah's ex on Girls
... which, along with Enlightened, will return in January
Parenthood adds yet another Friday Night Lights alum
Wonderfalls star Caroline Dhavernas joins Hannibal
Chuck Lorre will release a $100 coffee table book
Ricky Gervais and Karl Pilkington have a new web series
The series will return to FX in October. Where last season's plot took place in contemporary Los Angeles, Asylum will move the action to the East Coast in 1964. [The Wrap]
Shiri Appleby should know a thing or two about alien life-forms thanks to her time on Roswell, but even that may not be enough to prepare her for the Brooklyn-style weirdness that awaits her on Lena Dunham's Girls. Appleby has joined the HBO comedy's second season as a love interest for Adam (Adam Driver), Hannah's oddball ex. Her character Natalie will be "a beautiful and charming New Yorker who adores Adam despite his wild sexual tendencies." Other high-profile guest stars lined up for the next season include Donald Glover and Patrick Wilson. [Screen Crush]
With that in mind, it's extra exciting to learn that we may get to see those fresh faces even sooner than we thought. Girls and Enlightened are both set to premiere in January 2013, each for a ten-episode second season. It's a surprisingly quick return for Girls, which only completed its first season in June. The Laura Dern-starring Enlightened, on the other hand, will have been off the air for over a year; its debut season ended in December 2011. [Vulture]
When former Friday Night Lights showrunner Jason Katims took his current gig as the boss at NBC's Parenthood, he apparently made a vow to himself to pull in as many Dillon and East Dillon alums with him as possible. The NBC dramedy has already featured appearances by Minka Kelly, Michael B. Jordan, Derek Phillips, Angela Rawna, and Jeff Rosick, and now Matt Lauria is headed over as well. Lauria has been cast in a "major recurring role" for the fourth season, as an Afghanistan war vet who bonds with Zeek (Craig T. Nelson). [TV Line]
Devotees of TV maker Bryan Fuller are probably just glad to have him back in full force with two new series, but fans of his short-lived Wonderfalls will be especially pleased to hear the newest bit of casting for Hannibal. Caroline Dhavernas has just landed the female lead in the upcoming serial killer drama, which follows FBI agent Will Graham (Hugh Dancy) and famed cannibal / psychiatrist Hannibal Lecter (Mads MIkkelsen) in the early days of their relationship.
Dhavernas will play onetime Lecter protege Dr. Alana "Al" Bloom, now a psychology professor at Georgetown University. While working with the FBI on criminal profiling, she introduces Lecter to Behavioral Science Unit boss Jack Crawford (Laurence Fishburne). Hannibal will premiere in midseason. [TV Line]
Chuck Lorre, the mastermind behind Two and a Half Men, The Big Bang Theory, and Mike & Molly, has been tacking on quirky little vanity cards to the end of his various shows for some time now. Sometimes they consist of just a few words and a snapshot, while other times they contain long rambly musings (occasionally about Charlie Sheen), but all of them go by too quickly to actually read.
If you're willing to shell out $100, however, you'll soon be able to take your good sweet time perusing his blurbs. Simon & Schuster will publish a coffee table book of Lorre's vanity cards titled What Doesn't Kill Us, Makes Us Bitter, due out in October 2012. The price tag may seem a bit high considering that anyone with Internet access or a DVR can read the cards for free, but the money's going to a good cause. All proceeds will be donated to Lorre's Dharma-Grace Foundation, which helps offer free medical care. [Deadline]
With Stephen Merchant off doing his own thing for HBO, Ricky Gervais is teaming up with another frequent colleague for his next endeavor. Gervais and Karl Pilkington have announced a new web series titled Learn English with Ricky Gervais, which ostensibly sees the pair offering language lessons.
As you might guess if you've seen The Ricky Gervais Show or An Idiot Abroad, though, the educational format is really just an excuse for the two of them to rehash their familiar comedic dynamic: Pilkington says buffoonish things, and Gervais giggles at them. Check out the trailer below.
Learn English will premiere with a free pilot, but it's unclear how the episodes beyond that will be distributed. In a blog post, Gervais floated the possibilities of finding a sponsor and streaming the other episodes for free, or charging a few dollars for each installment. [THR]