Cool Stuff: Russell Brand As Captain Hook And More In Annie Leibovitz' 2012 Disney Dream Portraits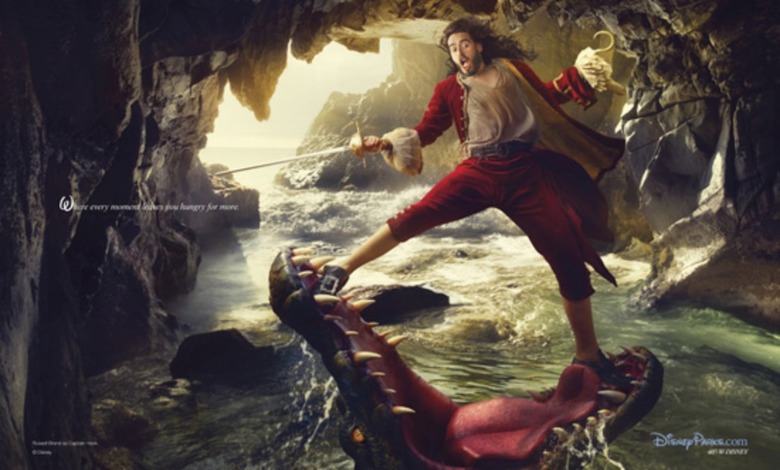 Disney fans, and /Film readers, are likely aware that major Hollywood stars have been dressing up like Disney characters. It's not as bad as it sounds. In the past few years we've seen Olivia Wilde as the Evil Queen from Snow White and the Seven Dwarfs, Scarlett Johansson as Cinderella, Jessica Biel as Pocahontas and many others dressing up to help promote the Disney brand.
The trend now continues. Legendary photographer Annie Leibovitz has done her 2012 Disney Dream portraits and they feature Russell Brand as Captain Hook from Peter Pan, and Jack Black, Will Ferrell and Jason Segel as Phineas, Ezra and Gus, the Hitchhiking Ghosts from The Haunted Mansion. It's the first time the series has featured characters who originated in a theme park and not in a movie. Check them out below.
Here are the Dream Portraits, thanks to the Disney Parks website. The third image was a teaser released yesterday.
These ads will soon be appearing in magazines such as GQ, O – The Oprah Magazine, People, People En Español, Vanity Fair, Real Simple, Essence, and InStyle. Unfortunately, we don't have really hi-res versions to look at the detail – you'll likely need to pick up a magazine to see that – but here's what each ad says.
Brand: "Where every moment leaves you hungry for more."
Black, Ferrell, Segel: "Where you can go on the ride of your afterlife."
Do you like these more, or less, than the previous images?