Cool Stuff: 'Teen Wolf,' 'Jaws,' 'Akira,' 'Eternal Sunshine' And 'Invasion Of The Body Snatchers' Among Movies In New Gallery 1988 Exhibit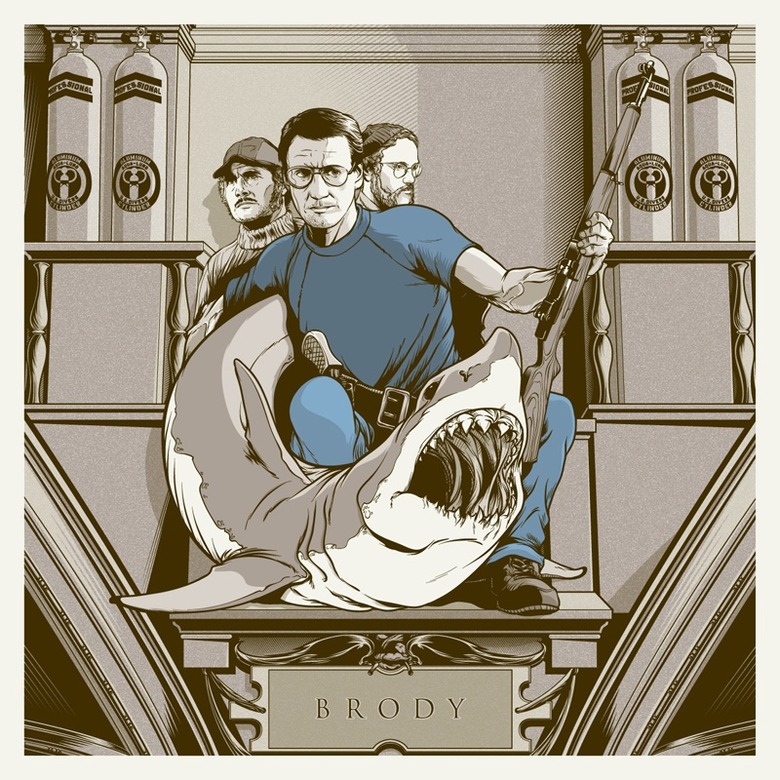 The best part of collecting pop culture art is the moment you see a piece that speaks to you. The moment when an artist created a work for a teeny, tiny film that you loved growing up and now there it is, perfectly represented, and you just have to own it. Personally, this has happened multiple times with the work of artists Jeff Boyes, Joshua Budich and Jay Shaw. These three super-talented, super-deserving, but not-yet-super-famous artists are collaborating in a new exhibition that opens Thursday at Gallery 1988's Venice, CA location.
In it, films like Teen Wolf, Eternal Sunshine of the Spotless Mind, Thrashin' (yes, the Josh Brolin skateboarding movie), Akira, Jaws, Masters of the Universe, Invasion of the Body Snatchers and Klute are just a few of the properties on display. OK, they're not tiny movies, but still. Check out the images after the jump and find out more about the show.
Here's a bunch of preview images released by Gallery 1988 for the show, which opens 7-10 p.m. Thursday August 2 at Gallery 1988 Venice, 214 Pier Ave, Santa Monica, CA 90405.
The square images of Jaws, Akira and Sorceress from He-Man are all by Joshua Budich, who has previously done some fantastic posters for Ferris Bueller's Day Off, Fight Club, Pulp Fiction, The Life Aquatic and more. Each of these new works are 18 x 18 editions of 75 and cost $40.
The odd sized images of Teen Wolf, Thrashin' and Eternal Sunshine are by Jeff Boyes, who has previously done my favorite piece of art I own, for the BMX film Rad, as well as pieces in the Lost series, a recent Breaking Bad piece and lots of other work for Gallery 1988. Each size, edition and price varies. But the runs are small.
The black and white posters are by rising Mondo superstar Jay Shaw, who just ended his own Mondo gallery show in Austin and has previously done posters of Kill List, Repo Man and others. They're 18 x 24s.
Okay – so if you can't make it to the show, which will remain on display until August 25, any leftovers from the opening will go on sale on the Gallery 1988 website on Friday. Follow @Galleries1988 for the heads up.
I'm beyond excited for this show. These guys have incredible taste in film, distinct, detailed styles and are constantly making people remember why they collect these posters in the first place.
Additional source: Collider