'The Paperboy' Trailer: The Year Of Matthew McConaughey Continues With 'Precious' Director's Lurid Drama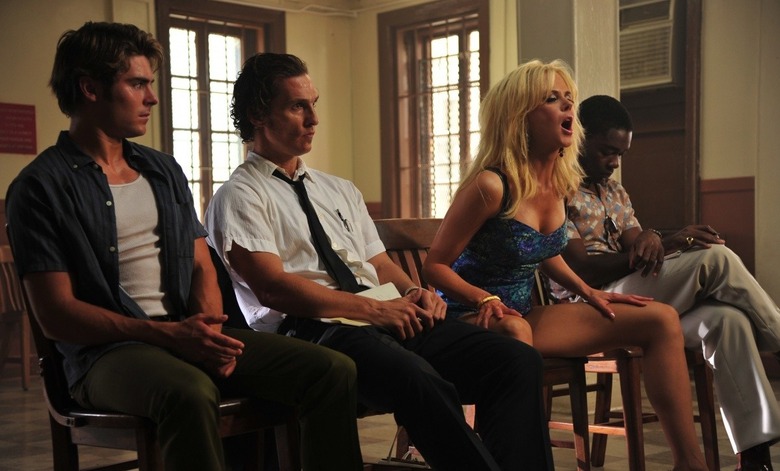 Matthew McConaughey is having one hell of a year. Having already drawn praise for turns in Richard Linklater's Bernie, Steven Soderbergh's Magic Mike, and William Friedkin's Killer Joe, the onetime Failure to Launch star is now heading into fall with Lee Daniels' The Paperboy.
Inspired by true events, The Paperboy centers around wayward young man (Zac Efron) and his journalist brother (McConaughey). When a woman (Nicole Kidman) approaches them for help in getting her death row inmate boyfriend (John Cusack) out of jail, they investigate the murder that put him there. David Oyelowo and Macy Gray also star. The first theatrical trailer has just hit the web, and you can watch it after the jump.
Reviews from The Paperboy's Cannes premiere were mixed. Detractors included The AV Club's Mike D'Angelo, who called it  "an unmitigated disaster" and "the most repugnant and inept movie to be inexplicably treated like high art since...whaddaya know, since Precious (Based on the Novel 'Push' by Sapphire)"; way at the other end of the spectrum were folks like The Atlantic's John Frosch, who praised it as "pulpy, sweaty, outrageously entertaining, a smarter-than-it-looks Southern noir." Pretty much everyone, pro- or anti-, seemed to agree that it was a colorful, lurid mess.
But if nothing else, The Paperboy seems worth checking out for the performances alone. In addition to McConaughey in what looks like another fine turn, there's the normally elegant Kidman, who's practically unrecognizable as loud, trashy Charlotte. Meanwhile, Efron strips down to tighty-whities in yet another attempt to convince us there's more to him than High School Musical.
The Paperboy will get a limited release starting October 5.
Synopsis:
A directionless young man helps his reporter brother investigate the possible wrongful conviction of a man on death row, and in the process, falls for the woman whom the convict has been romancing through prison correspondence.