'Inside Llewyn Davis' Lead Oscar Isaac Talks About The Film's Musical Performance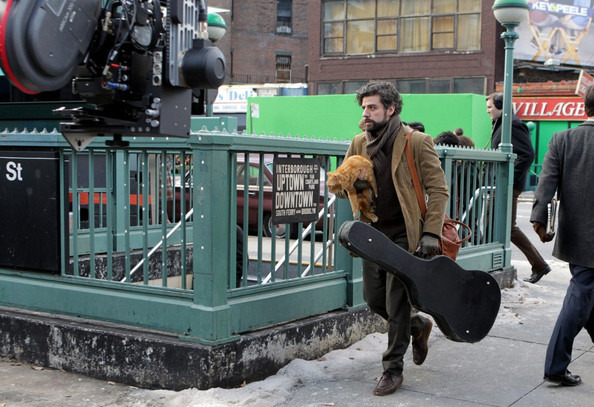 This is pretty thin stuff, but it is a tidbit of new info — or corroborated info — about the new Coen Brothers film, Inside Lleywn Davis. We know that the inspiration for the movie is New York's East Village folk scene that defined part of the musical landscape of the early '60s, and that Oscar Isaac plays the title character, who is loosely based on real folk musician Dave Van Ronk. And Isaac confirms the execution of a plan that we'd heard for the film early on, with respect to how music would end up in the feature.
Well before shooting began, the Coens talked about doing the film with live music, rather than having the characters mime to playback. And now Isaac has talked to THR about the film, explaining that "We did all the music live, no playback; it's like a concert movie. There's like six or seven songs in it." So that's something to look forward to. We've obviously seen a Coens film with a heavy musical component in O Brother, Where Art Thou?, but this could be something altogether different.
Isaac also gushed about the film in general ("I play a guy that's down on his luck, but it was very hard to feel that way because I was just always had a smile from ear to ear") which is to be expected from someone working with the Coens. And his own musical ability helped with the role, as he explained, "I've been playing for 20 years, so it was kind of the perfect storm of things that came together for me to be a part of it."
Inside Llewyn Davis also features Justin Timberlake, Carey Mulligan, Garrett Hedlund, and John Goodman. We don't have a release date for the film at this point, but there's still time for it to be announced for one of the fall festivals.