Toronto International Film Festival Docs And Midnight Picks Include Films From Ken Burns, Rob Zombie, And Martin McDonagh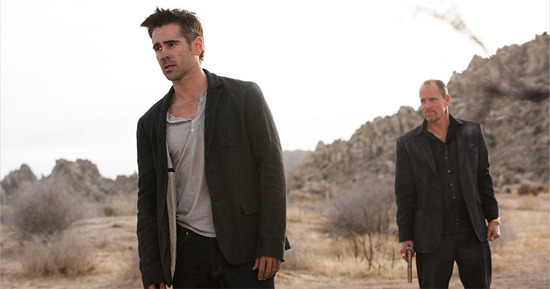 Last week saw the announcement of some of the big films that will be playing the Toronto International Film Festival in September. We'll have a rundown of images from some of these soon, but in the meantime the lineups for the Documentary program and that always entertianing Midnight Madness have been revealed.
On the doc side, TIFF announced films such as Ken Burns' The Central Park Five, Alex Gibney's Mea Maxima Culpa: Silence in the House of God, and Marina Zenovich's Roman Polanski: Odd Man Out, which follow's Zenovich's own '08 film Roman Polanski: Wanted and Desired.
On the Midnight Madness side, there are premieres that we're excited about, such as the horror anthology The ABC's of Death, and Martin McDonagh's new film Seven Psychopaths (pictured above), which is his long-awaited next film after In Bruges. Rob Zombie is bringing The Lords of Salem, and Don Coscarelli's new picture John Dies at the End will show up, too.
Find a big list of new TIFF films, many of which could become some of our big points of interest for late 2012 and much of 2013, after the break.
In addition to the programs listed below, there are films added to the TIFF Kids lineup  (such as Finding Nemo 3D and Hotel Transylvania) and a program of restored films that includes Dial M For Murder, Stromboli by Roberto Rossellini, and Roman Polanski's Tess.
First, the TIFF doc lineup:
9.79* by Daniel Gordon, United Kingdom World Premiere
Daniel Gordon's 9.79* looks at the legacy of the 100-metre men's final at the 1988 Seoul Olympics, when gold medalist Ben Johnson tested positive for anabolic steroids and scandal reigned. For the first time ever, the eight athletes who ran that infamous race tell their story.
Artifact by Bartholomew Cubbins, USA World Premiere
The band Thirty Seconds to Mars and lead singer Jared Leto fight an excruciating lawsuit with EMI while writing songs for their album This is War.
A World Not Ours by Mahdi Fleifel, United Kingdom/Lebanon/Denmark World Premiere
A World Not Ours is an intimate, often humorous, portrait of three generations of exile in the refugee camp of Ain El-Helweh, in southern Lebanon. Based on a wealth of personal recordings and historical footage, it is a sensitive and illuminating study of belonging, friendship and family.
The Act of Killing by Joshua Oppenheimer, Denmark/Norway/United Kingdom World Premiere
In a place where killers are celebrated as heroes, these filmmakers challenge unrepentant death-squad leaders to dramatize their role in genocide. The result is a surreal, cinematic journey, not only into the memories and imaginations of mass murderers, but also into a frighteningly banal regime of corruption and impunity. Executive produced by Errol Morris.
As if We Were Catching a Cobra by Hala Alabdalla, Syria/France World Premiere
Initially intended as a documentary foray into the art of caricature in Egypt and Syria, when the insurgencies break out in both countries, Syrian director Hala Alabdalla ends up drawing an electrifying, intimate, passionate film on the fearless tenacity of Arab artists fighting for freedom and justice.
Camp 14 — Total Control Zone by Marc Wiese, Germany North American Premiere
This is the story of a man who was born and grew up in a Gulag-style North-Korean camp. After his escape at the age of 23, he discovers the "outside world" for the first time. The film relays his incredible story, as well as those of his fellow inmates and prison guards. Featuring Shin Dong-Huyk, Hyuk Kwon and Oh Yangnam.
The Central Park Five by Ken Burns, David McMahon and Sarah Burns, USA North American Premiere
The Central Park Five tells the story of how five black and Latino teenagers were wrongly convicted of raping the Central Park Jogger and how a rush to judgment by the police, media clamoring for sensational stories, and an outraged public contributed to that miscarriage of justice.
Far Out Isn't Far Enough: The Tomi Ungerer Story by Brad Bernstein, USA North American Premiere
Far Out Isn't Far Enough: The Tomi Ungerer Story depicts one man's wild, life-long adventure of testing societal boundaries through his use of subversive art. This film combines traditional documentary storytelling with original animation from over 70 years worth of art from the renegade children's book author and illustrator. Featuring Tomi Ungerer, Maurice Sendak, Jules Feiffer, Steven Heller and Michael Patrick Hearn.
Fidaï by Damien Ounouri, France/Algeria/Qatar/China/Kuwait World Premiere
An exceedingly timely tribute of unsung everyday heroes of revolutions draws the intimate portrait of El Hadi, a seventy-year-old veteran of the Algerian War of Independence, filming the unrecorded memory of years in combat, with its glories, traumas and legacy of violence.
First Comes Love by Nina Davenport, USA World Premiere
With the bracingly honest, occasionally hilarious and ultimately moving First Comes Love, Davenport examines husband-free parenthood. From hormone injections to post-natal chaos, Davenport chronicles her own pregnancy — including her conventional family's reaction to it. She reflects upon a rapidly changing world, providing a wry and insightful play-by-play that keeps the viewer tuned in and transfixed by the topsy-turvy state of modern reproduction.
The Gatekeepers by Dror Moreh, Israel/France/Germany/Belgium International Premiere
Charged with overseeing Israel's war on terror, the head of the Shin Bet — Israel's secret service agency — is present at the crossroad of every decision made. For the first time ever, six former heads of the agency agree to share their insights and reflect publicly on their actions and decisions — offering an exclusive account of their experiences and attitudes during, and after, their service.
The Girl from the South by José Luis García, Argentina International Premiere
Filmmaker José Luis García was fascinated by a young Korean student activist he met in 1989 in North Korea. The director begins his quest to ask her how she crossed the most fortified frontier in the world and what happened to her dreams after the fall of communism.
How to Make Money Selling Drugs by Matthew Cooke, USA World Premiere
How To Make Money Selling Drugs offers a provocative glimpse into the lives of those on both sides of the "war on drugs," delivering a diverse and unique perspective on the subject through interviews with 50 Cent, Eminem, The Wire producer David Simon, Arianna Huffington, Woody Harrelson, Eminem, Susan Sarandon and infamous drug kingpin "Freeway" Rick Ross.
Iceberg Slim: Portrait of a Pimp by Jorge Hinojosa, USA World Premiere
Iceberg Slim: Portrait of a Pimp examines the tumultuous life of Iceberg Slim (1918-1992) and how he reinvented himself from pimp to author of seven groundbreaking books. These books were the birth of Street Lit and explored the world of the ghetto in gritty and poetic detail and have made him a cultural icon. Interviews with Iceberg Slim, Chris Rock, Henry Rollins, Ice-T, Quincy Jones and Snoop Dogg.
London – The Modern Babylon by Julien Temple, United Kingdom International Premiere
London – The Modern Babylon is legendary director Julien Temple's epic time-travelling voyage to the heart of his hometown. From musicians, writers and artists to dangerous thinkers, political radicals and — above all — ordinary people, this is the story of London's immigrants, its bohemians and how together they changed the city forever.
Lunarcy! by Simon Ennis, Canada World Premiere
With wry humour and affection, Simon Ennis' Lunarcy! follows a disparate group of dreamers and schemers who share one thing in common: they've all devoted their lives to the Moon. From the former ventriloquist who's made millions selling Moon lots to the young man who's resolved to depart for Luna (permanently), Lunarcy! is a touching and comic portrait of passion, creativity and quixotic dreams.
Mea Maxima Culpa: Silence in the House of God by Alex Gibney, USA World Premiere
Academy Award®-winning filmmaker Alex Gibney exposes the abuse of power in the Catholic Church and a cover-up that winds its way from the row houses of Milwaukee, Wisconsin, through the bare ruined choirs of Ireland's churches all the way to the highest office of the Vatican.
Men At Lunch by Seán Ó Cualáin, Ireland International Premiere
Narrated by Fionnula Flanagan, Men at Lunch reveals the remarkable untold story behind one of the most iconic images of the 20th century, Lunch atop a Skyscraper, taken on the 69th floor of the Rockefeller Building in the autumn of 1932. Part homage, part investigation, Men at Lunch is the revealing tale of an American icon, an unprecedented race to the sky and the immigrant workers who built New York.
More Than Honey by Markus Imhoof, Germany/Austria/Switzerland North American Premiere
Einstein once said: "If the bee disappears from the surface of the earth, man would have no more than four years to live." In the past five years, billions of honeybees simply vanished for reasons still obscure. If the bees keep dying, there will be drastic effects for humans as well: more than one third of our food production depends on pollination by honeybees and their lives and deaths are linked to ours.
No Place on Earth by Janet Tobias, USA/United Kingdom/Germany World Premiere
While mapping out the largest cave system in Ukraine, explorer and investigator Chris Nicola discovers evidence that five Jewish families spent nearly a year and a half in the pitch-black caves to escape the Nazis. This is the story of the longest uninterrupted underground survival in recorded human history.
Reincarnated by Andrew Capper, USA World Premiere
Legendary hiphop star Snoop Dogg travels to Jamaica to record a new album and immerse himself in the island's music and culture. After decades as America's ultimate gangsta, Snoop seeks a more spiritual path.
Roman Polanski: Odd Man Out by Marina Zenovich, USA World Premiere
In 2009, celebrated director Roman Polanski was arrested at the Zurich Film Festival. His weekend jaunt turned into a 10-month imprisonment. Zenovich's follow up to Wanted and Desired — which some say was one of the reasons for Polanski's arrest — explores the bizarre clash of politics, celebrity justice and the media.
The Secret Disco Revolution by Jamie Kastner, Canada World Premiere
A cheeky, sexy documentary-hybrid, The Secret Disco Revolution wraps revealing celebrity interviews — The Village People, Gloria Gaynor, Kool and the Gang — classic glitter-era footage and music in a hilarious new package that never lets you stop dancing long enough to decide what's real and what's satire.
Shepard & Dark by Treva Wurmfeld, USA World Premiere
Remember when close friends corresponded by letters? When intimate thoughts about life, family and mortality were hand-written or typed on the page, with full thought given to every word? This is the kind of friendship that Sam Shepard and Johnny Dark had.
Show Stopper: The Theatrical Life of Garth Drabinsky by Barry Avrich, Canada World Premiere
One of the most infamous moguls, Garth Drabinsky's incredible story is the most dramatic and unprecedented rise to and fall from power in show business history. Show Stopper features interviews with artists who loved him, industry players who battled him and the media who spilled gallons of ink chronicling his prodigious career.
State 194 by Dan Setton, Israel/Palestine/USA World Premiere
In 2009, Palestinian Prime Minister Salam Fayyad launched a plan to demonstrate that his people were deserving of statehood, inspiring them to change their destiny and seek U.N. membership. Since then, they've made remarkable progress, but the political quagmire threatens to destroy the most promising opportunity for peace in years. From Participant Media, the company behind Waiting for Superman and An Inconvenient Truth.
Storm Surfers 3D by Christopher Nelius and Justin McMillan, Australia World Premiere
Storm Surfers 3D is an epic, character-driven adventure documentary following two best friends on their quest to hunt down and ride the biggest and most dangerous waves in the world. Aussie tow-surfing legend Ross Clarke-Jones and two-time world champion Tom Carroll enlist the help of surf forecaster Ben Matson, and together they track and chase giant storms across the Great Southern Ocean.
The Walls of Dakar by Abdoul Aziz Cissé, Senegal International Premiere
A rare documentary that chronicles Dakar's unplanned, spontaneous mural frescos, produced by marginal painters, rappers and taggers, that functioned, until the city's insurgency, as one of its rare sites for free, uncensored expression and the crucible for articulating citizenship. Visually captivating, an elegy of Dakar's unrepentant insurgent spirit of its everyday artists.
Then we've got the Midnight Madness program, which is often one of the best curated genre festival programs around:
The ABCs of Death World Premiere
Kaare Andrews, Angela Bettis, Adrián García Bogliano, Bruno Forzani & Hélène Cattet, Ernesto Díaz Espinoza, Jason Eisener, Xavier Gens, Jorge Michel Grau, Lee Hardcastle, Noboru Iguchi, Thomas Cappelen Malling, Anders Morgenthaler, Yoshihiro Nishimura, Banjong Pisanthanakun, Simon Rumley, Marcel Sarmiento, Jon Schnepp, Srdjan Spasojevic, Timo Tjahjanto, Andrew Traucki, Nacho Vigalondo, Jake West, Ti West, Ben Wheatley, Adam Wingard, and Yûdai Yamaguchi
Twenty-six directors... 26 ways to die! The ABCs Of Death is perhaps the most ambitious anthology film ever conceived, featuring segments directed by over two dozen of the world's leading talents in contemporary genre film. With each director assigned a letter of the alphabet, they were then given free rein in choosing a word to create a story involving a tale of mortality. It's an alphabetical arsenal of destruction orchestrated by some of the most exciting names in global horror including Ben Wheatley (Kill List), Ti West (House of the Devil), Jason Eisener (Hobo With A Shotgun), Adam Wingard (You're Next), Xavier Gens (Frontieres), and Nacho Vigalondo (Time Crimes).
Aftershock by Nicolás López, USA/Chile World Premiere
In Chile, an American tourist's vacation goes from good to great when he meets some beautiful women travellers. But when an earthquake ravages the underground nightclub they're in, a fun night quickly turns to terror. Escaping to the surface is just the beginning as they face nightmarish chaos above ground. Starring Eli Roth and Selena Gomez.
The Bay by Barry Levinson, USA World Premiere
A brutal and harrowing film about a deadly parasite, The Bay chronicles the descent of a small Maryland town into absolute terror.
Come Out and Play by Makinov, Mexico World Premiere
Beth and Francis vacation before the birth of their child. Francis insists on venturing to a more serene island, Beth hesitantly agrees. They set out to a beautiful island, but soon discover it's mysteriously abandoned, and the only people on the island are children. Beth and Francis are left to uncover the mystery of the disappearances, and a day in paradise quickly turns into a struggle for survival. Cast includes Ebon Moss-Bachrach, Vinessa Shaw and Daniel Gimenez Cacho.
Dredd by Pete Travis, USA/United Kingdom/India World Premiere
The endlessly inventive mind of writer Alex Garland (28 Days Later) and director Pete Travis bring the iconic masked police officer Dredd to life in this futuristic neo-noir action film. Filmed in 3D with stunning slow-motion photography sequences, the film returns the celebrated comic book anti-hero to his dark, violent and visceral roots. Starring Karl Urban, Olivia Thirlby and Lena Headey.
Hellbenders by JT Petty, USA World Premiere
Hellbenders, an R-rated 3D exorcism comedy, follows the Order of Hellbound Saints (Brooklyn Parish), a highly secretive and profoundly blasphemous men of God, as they battle demonic forces too terrible to be cast out by traditional Vatican-approved methods. Cast includes Clancy Brown, Clifton Collins Jr., Robyn Rikoon and Andre Royo.
John Dies at the End by Don Coscarelli, USA Canadian Premiere
In John Dies at the End, it's all about the Soy Sauce, a drug that promises an out-of-body experience with each hit. Users drift across time and dimensions. But some who come back are no longer human. Suddenly, a silent otherworldly invasion is underway, and mankind needs a hero. What it gets instead is John (Rob Mayes) and David (Chase Williamson), a pair of college dropouts who can barely hold down jobs. Can these two stop the oncoming horror in time to save humanity? No. No, they can't. Adapted from David Wong's audacious trans-genre horror novel, John Dies at the End is written and directed by Don Coscarelli (Bubba Ho-Tep) and also stars Clancy Brown and Paul Giamatti.
The Lords of Salem by Rob Zombie, USA/United Kingdom/Canada World Premiere
Heidi, a radio station DJ, receives a wooden box containing a record. Heidi listens and the bizarre sounds within the grooves immediately trigger flashbacks of Salem's violent past. Is Heidi going mad or are the Lords of Salem returning for revenge on modern day Salem?
No One Lives by Ryuhei Kitamura, USA World Premiere
From the director of Versus and The Midnight Meat Train, No One Lives is a smart and original horror movie with, at its heart, a killer in the grip of a dark and twisted love affair. A ruthless criminal gang takes a young couple hostage and goes to ground in an abandoned house in the middle of nowhere. When the captive girl is killed, the tables are unexpectedly turned. The gang finds itself outsmarted by an urbane and seasoned killer determined to ensure that no one lives. Featuring Luke Evans, Adelaide Clemens, Derek Magyar, Lee Tergesen and America Olivo.
Seven Psychopaths by Martin McDonagh, USA/United Kingdom World Festival Premiere
Written and Directed by Academy Award® winner Martin McDonagh, the comedy Seven Psychopaths follows a struggling screenwriter (Colin Farrell) who inadvertently becomes entangled in the Los Angeles criminal underworld after his oddball friends (Christopher Walken and Sam Rockwell) kidnap a gangster's (Woody Harrelson) beloved Shih Tzu. Co-starring Abbie Cornish, Tom Waits, Olga Kurylenko and Zeljko Ivanek.
For good measure, let's hit the Vanguard lineup, which presents movies from up and coming filmmakers, and films that are a bit more experimental.
90 Minutes by Eva Sørhaug, Norway World Premiere
Director Eva Sørhaug (Cold Lunch) reveals the rage and violence lurking beneath seemingly tranquil domesticity in her bold and uncompromising sophomore feature.
Beijing Flickers by Zhang Yuan, China World Premiere
Beneath Beijing's dazzling economic boom exists the downtrodden and the forgotten "little" people who bear the weight of life's trials and injustices.
Berberian Sound Studio by Peter Strickland, United Kingdom North American Premiere
Set in 1976: Gilderoy is hired to orchestrate the sound mix for the latest film by Italian horror maestro, Santini. As time and realities shift, Gilderoy is lost in a spiral of sonic and personal mayhem, and has to confront his own demons in order to stay afloat.
Blondie by Jesper Ganslandt, Sweden North American Premiere
Three sisters, all adrift and in crisis, reunite at their childhood home as their domineering mother arranges a big birthday. But as the festivities come to an end, repressed conflicts rise to the surface. Old wounds are opened and a new family is born.
Here Comes the Devil by Adrian Garcia Bogliano, Mexico/Argentina World Premiere
On a family vacation, a couple's son and daughter disappear while exploring a cave-riddled mountainside. The children eventually return home seemingly unharmed, but are withdrawn and devoid of emotion. The parents fear they have fallen prey to something inhuman — and that this dark evil has come home with them.
iLL Manors by Ben Drew, United Kingdom International Premiere
iLL Manors is the highly anticipated directorial debut by pioneering British music artist Ben Drew (a.k.a. Plan B). A unique crime thriller set on the unforgiving streets of London, iLL Manors follows six disparate lives, all struggling to survive the circles of violence that engulf them. Narratively linked through original music from Plan B, the film is a visually stunning and emotionally impactful experience laced with street-wise humour. The film's soundtrack just topped the U.K.'s album chart.
Motorway by Soi Cheang, Hong Kong North American Premiere
A cocky young cop on the city's top-secret, high-speed pursuit squad must learn the tricks of the trade from a grizzled veteran (Hong Kong action star Anthony Wong) as he prepares to take down a getaway driver in this super-charged, high-octane thriller from Hong Kong action auteur Soi Cheang (Accident) and legendary producer Johnnie To.
Painless by Juan Carlos Medina, Spain/France/Portugal World Premiere
At the dawn of the Spanish civil war, a group of children insensitive to pain is locked in a sanatorium in the heart of the Pyrénées. In the present day, brilliant neurosurgeon David Martel discovers that he has a tumor and starts searching for his biological parents, in order to get the bone marrow transplant necessary for his survival. During his quest, he will exhume terrifying secrets about his origins, reanimate ghosts of his country and confront Berkano, the only fateful survivor of the insensitive children. From the writer of [Rec].
Peaches Does Herself by Peaches, Germany World Premiere
On the advice of a 65-year-old stripper, Peaches makes music that is sexually forthright. Her popularity grows and she becomes what her fans expect her to be: transsexual. She falls in love with a beautiful she-male, but Peaches gets her heart broken and has to realize who she really is. Described as an anti-jukebox musical. Peaches writes, directs and plays the role of Peaches herself.
Pusher by Luis Prieto, United Kingdom North American Premiere
As edgy and explosive as Nicolas Winding Refn's (Drive) 1996 cult classic, this English language remake tells the story of a week in the life of Frank, a big time drug pusher in London. Frank's life is a fun-filled rollercoaster ride that spins out of control. Friendships start to vanish, there is no longer room for love within his life, and violence takes over. Danger and chaos ensue, and eventually Frank is left with no one to turn to and nowhere to go.
Room 237 by Rodney Ascher, USA Canadian Premiere
Room 237 fuses fact and fiction through interviews with ardent fans convinced they have decoded Stanley Kubrick's The Shining's secret messages regarding genocide, government conspiracy, and the nightmare that we call history. Ideas of five devotees of the film are braided together in a kaleidoscopic deconstruction of the horror classic.
Sightseers by Ben Wheatley, United Kingdom North American Premiere
Chris (Steve Oram) wants to show Tina (Alice Lowe) his world and he wants to do it his way: on a journey through the British Isles in his beloved Abbey Oxford caravan. Erotic odyssey... Killing spree... Caravanning holiday... The trip taken by Tina and Chris in Sightseers is all these things and more.
Thale by Aleksander Nordaas, Norway Canadian Premiere
Two crime-scene cleaners discover a mythical, tailed female creature in a concealed cellar. She never utters a word, unable to tell her story, but the pieces of the puzzle soon come together: she's been held captive for decades for reasons soon to surface.
The We and the I by Michel Gondry, USA North American Premiere
It's the last day of the year at a high school in the Bronx, and students pile on to the usual bus home. The raucous bunch of aggressive and superficial teens — the bullies and the bullied — develops and is transformed as the bus empties. Relationships become closer and more personal between students with absolutely nothing in common.