'Skyfall' Trailer: Bond, Resurrected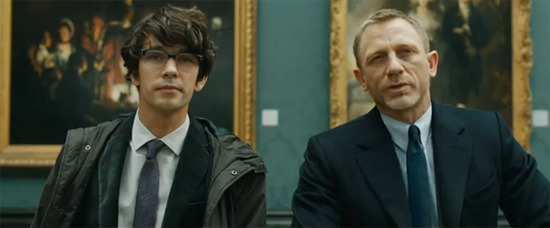 Here's the new trailer for the latest James Bond film, Skyfall. Recently an IMAX-exclusive trailer went up in front of some IMAX presentations of The Dark Knight Rises, and yesterday we had a brief online tease of this new look at the movie. This trailer gives you just about everything you could want — more plot, a good look at Javier Bardem as the villain, an introduction to Ben Whishaw's Q, and a sense that Sam Mendes might just have knocked this one out of the park.
Update: while 007.com provided the international trailer above, here's a slightly different domestic one, via Yahoo:
So that's pretty great. And there's the pool shot that was one of the first images released for the film! While the teaser for this movie was solid, this gives us a lot to check out. That confrontation between Silva (Bardem) and Bond looks like it comes right from the classic franchise template  and the action setpieces look spectacular. Everyone seems to love that shot of Bond fixing his cufflinks on the train, and for good reason: that's the character, in one shot.
Skyfall is directed by Sam Mendes; it stars Daniel Craig, Javier Bardem, Ralph Fiennes, Naomie Harris, Bérénice Marlohe, Ben Whishaw, Helen McCrory, Rory Kinear, Albert Finney and Judi Dench. The film hits theaters in the UK on October 26 in Europe and November 9 in the U.S.
Bond's loyalty to M is tested as her past comes back to haunt her. As MI6 comes under attack, 007 must track down and destroy the threat, no matter how personal the cost.