'Hot Tub Time Machine' Helmer Steve Pink In Talks To Rewrite And Direct 'Bad Santa 2'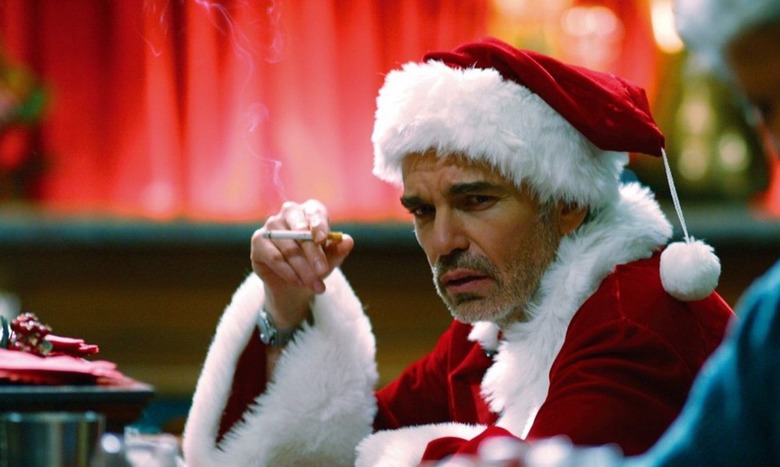 Billy Bob Thornton's been talking up a possible Bad Santa 2 for the past couple of years, saying the 2003 comedy's the only one of his films he wants to do a sequel for. Now it seems his Christmas wish is about to come true. A new report indicates that Hot Tub Time Machine helmer Steve Pink has just entered preliminary talks to rewrite and direct the dark holiday comedy. More details after the jump.
Plot details haven't been revealed on either of the two commissioned scripts by Johnny Rosenthal or John Phillips, so we'll have to wait a little longer to find out what Thornton's criminal mall Santa will get up to in the new movie. We can't even hazard a guess based on the writers' earlier works; while both up-and-coming scribes have sold scripts to studios, neither has a produced screenplay under his belt.
Personally, I'm of two minds about this follow-up. On the one hand, I adored the original Bad Santa and would love to see the continued adventures of Willie. On the other, I loved that movie because director Terry Zwigoff or writers Glenn Ficarra and John Requa managed to add just the right amount of sweetness without sacrificing the film's truly nasty, totally inappropriate sense of humor. It may prove tricky for Pink to recreate that delicate balance.
Earlier this year, Thornton said the plan was to shoot this fall for a Christmas 2013 release. If Pink locks his deal soon and hits the ground running, that could very well happen. In that case, expect to hear more on story and casting — including updates on whether or not Lauren Graham and Brett Kelly will reprise their roles — soon.