POTD: The Many Faces Of 'Cloud Atlas'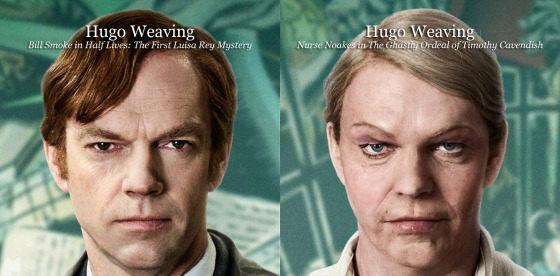 Before we'd even seen footage from Cloud Atlas, we knew that co-writers and co-directors Tom Tykwer, Andy Wachowski, and Lana Wachowski had given their cast a challenge: each actor would play multiple characters in the six interconnected stories that make up the film. Not only that, but actors would be, in some cases, playing characters of different gender and/or race than the actor's own.
The long debut trailer for the film showed a bit of that in action, as we could see glimpses of Hugh Grant as what appears to be a violent post-apocalyptic shaman, and star Tom Hanks in a few different guises. Now the official site for the film is online, and it gives us some very clear looks at what actors like Hugo Weaving are doing in the film. He's seen above in relatively "normal" mode on the left, and as a rather ghastly (and somehow Eddie Izzard-like) woman on the right. Check out more after the break.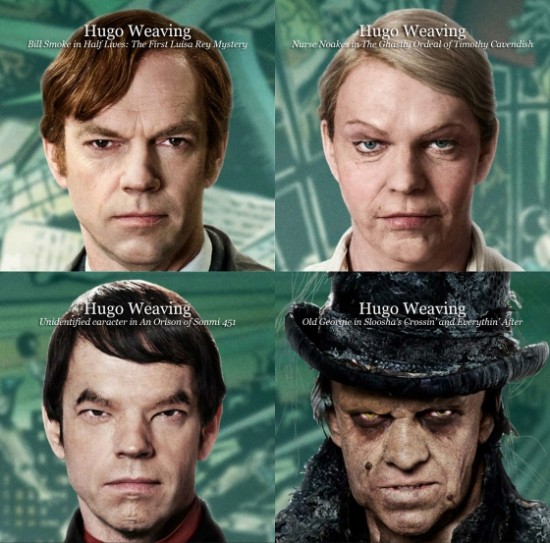 A Reddit user assembled the image above from promo stills found on the official website for Cloud Atlas. There's a lot more to be found at the site, which is slowly rolling out looks at the actors as they appear in all six stories that make up the film.
There's sure to be some conversation generated by this, as making actors up to change their racial appearance is a tricky business. The spectre of blackface performances (and things like Mickey Rooney's work in Breakfast at Tiffany's, playing an exaggerated Japanese stereotype) is difficult to escape. The simple fact that Tykwer and the Wachowskis went as far as they have with Cloud Atlas is impressive in a way, and they're culturally sensitive enough that I can't imagine that they're walking directly into the pitfalls associated with portrayals of race and gender. There's always the chance that they've failed, but the potential to see them succeed is what makes the project exciting.