Sequel Bits: 'Independence Day 2', 'Grown Ups 2', 'Dredd 2', 'Fast Six', 'Expendables 2'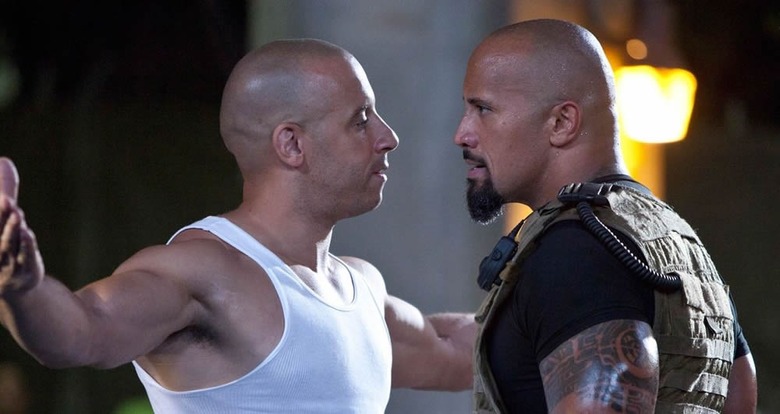 Today's action-packed Sequel Bits includes updates on Independence Day 2, The Expendables 2, Fast and the Furious 6, and more. After the jump:
Dean Devlin says they've "cracked" Independence Day 2
Skunks invade the New England set of Grown Ups 2
Karl Urban would be happy to play Dredd in a sequel
Fast Six adds model Clara Paget as a gun-toting sidekick
A new featurette goes behind the scenes of Expendables 2
Many years ago, I was actually hired to write the sequel to Independence Day. And I wrote a sequel. And they paid me a boatload of money to go write this thing. And after I wrote it, I read it and I gave them back the money and I said, 'Look, this is an okay movie I just wrote. But it's not worthy of the sequel to Independence Day.' And I literally gave back the money. And afterwards I said, 'You know what? I'm not even going to try anymore.' And it was only about a year and a half ago that Roland called me up and said, 'We should try again.' And I was against the idea, cause I said I don't want to do it unless it's really the right idea. And so Roland and I, we went off to Palm Springs, we started working together again, first time in eleven years, and we got it. We cracked it. We both looked at each other and said, 'Oh my God, that's as if we always planned this to be the sequel.' And it was like perfect, and we got very excited about it. So we wrote the sequel. We think that this is the first time we have something that is worthy of doing, and that's why we're pushing it.
Devlin says the sequel will acknowledge the 16-year-gap since the last film. "It plays in real time," he revealed. "I think unless you're rebooting it, you kind of have to, because the actors have gotten older. The intention here is not to reboot but to really do a sequel." No word yet on whether star Will Smith will be back. [Collider]
We're not surprised to hear that Grown Ups 2 reeks, but we didn't think it'd reek quite so literally. The comedy sequel's Swampscott, MA set has apparently become overrun with skunks, who've taken to haunting the newly planted forest set and gorging themselves at craft services.
"They built the set on marshland near a wooded area and the set isn't sealed off so the skunks come in and out as they please," animal control officer Diane Treadwell explained. "There's been so much food around, it's been an ongoing thing." And because the law prevents animal control from releasing the critters too far from their natural habitats, the ones they catch are simply turning around and coming right back.
But fortunately (or not, if you're rooting for Sandler and his pals to get sprayed), the animal visitors have apparently been "pretty well-behaved." "They didn't disrupt the shoot at all," publicist Sabrina Laufer said. [Boston Herald]
Most fans are still waiting to see how Karl Urban's updated take on Judge Dredd works out, but if audiences wind up liking what they see, Urban would be more than happy to dish out more punishment. Asked about a possible sequel for Dredd 3D, Urban responded:
Yeah, absolutely. But you know I just want to say if you know this film is a one-off cult classic, than I'm cool with that because I'm really proud of the film. And we showed it the other night and the audience loved it. And to me that's like, I'm happy. I'm good. If we don't end making more of these, than I'm cool with that because it's all good on my end. If we're fortunate enough if it blows up at the box office, then absolutely I would definitely love to come back and reprise the role and make more of these. I just think there's so much fertile ground to explore within the character and within the world. And I would love to see the continuing story and the evolution of these characters and the relationship between Anderson and Dredd. And it would be interesting to find out more about the world, more about Dredd. It would be really cool to see the Dark Judges. There's so much. And it would be great to – we've seen one aspect, one sector of Mega-City One. It would be great to see other aspects.
Dredd 3D opens September 21. [411 Mania via Comic Book Movie]
As Fast Six prepares to race into theaters, it's picking up some fresh new faces along the way. The latest addition is Clara Paget, a British model who'll take on a sidekick role as "gun-slinging action woman" Vegh. Paget joins returning stars Vin Diesel, Dwayne Johnson, Paul Walker, Michelle Rodriguez, and Jordana Brewster, as well as newcomers Gina Carano and Luke Evans.
While the plot remains under wraps, we know it'll see the thieves heading to Europe. Naturally, the movie will take advantage of the local landmarks. The Daily Mail has revealed that one scene will involve an oil tanker explosion in London's Piccadilly Circus, although it's not the real Piccadilly Circus we'll see blown up. For obvious reasons, the local authorities refused to let director Justin Lin shoot at the actual scene, so a full-scale replica was built in Surrey. [via First Showing]
The Expendables 2 has already put out a few promos, but this new featurette offers a slightly different perspective by going behind the scenes.The Expendables 2 opens August 17. [via Collider]