Cool Stuff: How Many Of These Famous Movie Outfits Can You Identify?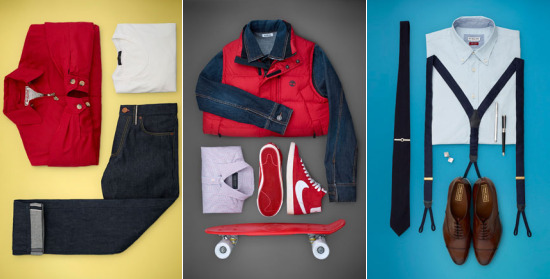 No matter how individualistic he seems, in truth an iconic movie character is the product of lots of collaboration — between the cinematographer who shoots him just so, the set designer who gives him a proper backdrop, the screenwriter who feeds him witty lines, the actor who breathes him to life, and let's not forget the costume designer who curates his eye-catching ensembles.
Photographer Candice Milon replicated a series of cinema's most recognizable getups, folding up the components and laying them out against plain backdrops. Even out of their appropriate contexts, it's not hard to recall what films these outfits are referencing. Click through to see how many you can guess.
[via Flavorwire]
Once you've gotten a good long look at the photos, highlight the key below to see the answers:
Gray: Marty McFly, Back to the Future
Red: Rick Blaine, Casablanca
Orange: Alex, A Clockwork Orange
Green: Forrest Gump, Forrest Gump
Black: Jake or Elwood Blues, The Blues Brothers
Blue: Gordon Gekko, Wall Street
Yellow: Jim Stark, Rebel Without a Cause
Most of the outfits are instantly recognizable, but I stumbled on the Wall Street and Casablanca ones. Without Humphrey Bogart or Michael Douglas to fill them out, a trench coat or a pair of suspenders are generic enough that they could be from any number of movies. Of course, once I found out what they were from I smacked myself in the head for not figuring them out sooner — trench coats may be a wardrobe staple both in and out of cinema, but who wears one better than Bogart?
The photographs were taken for a spread by Sport & Style, a French men's magazine. Their site has info on the items featured in the photographs, if you want to replicate these looks yourself. Although we're looking at 77 € (about $95) t-shirts and 385 € (about $475) blazers here, so it's probably way cheaper to just drop by the Gap and hope for the best.