TV Bits: 'Mad Men,' 'American Horror Story,' Marc Strong, MTV Found Footage Show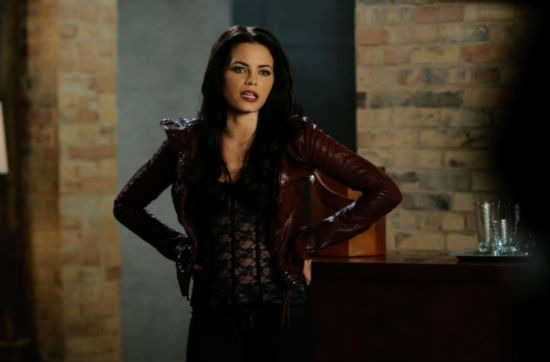 Major actors going to TV and major characters returning to TV are just two of the following TV Bits. After the jump read about the following:
MTV's new found footage show, The Experiment, is inspired by Paranormal Activity.
Channing Tatum's wife Jenna Dewan (above) will romance Adam Levine on American Horror Story season 2.
Matthew Weiner talks seasons 6 and 7 of Mad Men including Elisabeth Moss' role.
Now that the found footage genre has conquered the cinemas, it's making its way home. MTV is developing a scripted, found-footage thriller called The Experiment based on a story by Brian Horiuchi and Miguel Sapochnik. Jason Blum, a producer on the Paranormal Activity series, is producing this show, which is said to be influenced by those films as well as The Blair Witch Project. There are no story details yet but read more at The Hollywood Reporter.
In 2006, Mark Strong starred in a British mini-series called Low Winter Sun about a police detective who commits the perfect murder of another cop, only to be drawn into the criminal underworld. He's now in talks to reprise the starring role in an American, AMC-aired remake opposite James Ransone (The Wire, Treme). Read more at Deadline.
The second season of American Horror Story is now filming aimed at an October air date and Entertainment Weekly has revealed a new piece of casting. Jenna Dewan, the star of Step Up and wife of Channing Tatum, has just been cast as one of "The Lovers," a main component of the new season. The other half of the couple is the previously announced cast member, Maroon 5 front man Adam Levine.
MINOR MAD MEN SPOILERS BELOW.
TV Line spoke to Mad Men creator and showrunner Matthew Weiner about the upcoming season of the show, which we likely won't see till late 2013 at the earliest. One of the biggest questions is whether or not Elisabeth Moss, whose character Peggy quit her job at the end of the fifth season, would return. Weiner wouldn't say how big her role would be, but did say that she will 100% be back. He also said that they will be doing at least two more seasons of the show as both he and Jon Hamm are signed on to do that.