The Best Summer Sports Movies You Probably Haven't Seen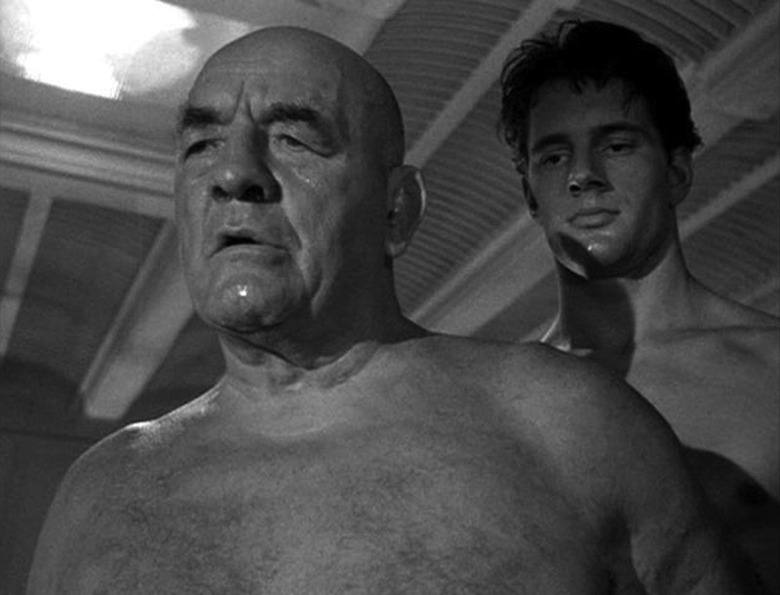 The 2012 Summer Olympics are in full swing and you know what that means: once again you are looking up the definition of the word "dressage."
The sports film, when done right, can be one of the most exhilarating genres of all. And once you get past The Fighter, The Sandlot and Hoosiers you'll find that there are more and more treasures out there. This list just scratches the surface of great, lesser-known movies out there whose subjects match events playing out in London over the next few weeks.
Breaking Away(1979); Peter Yates, director.
Breaking Away is really a film about the end of adolescence, and a kid with a dream figuring out his place in the world. Dennis Christopher's Dave Stoller is one of my all time favorite film characters – a cycling enthusiast obsessed with Italy who puts on a phony accent around girls and around the house. He comes from the wrong side of the tracks – a blue collar family in a college town, and the big cycling race at the end is his one shot to prove his worth.
Breaking Away features one of the finest supporting casts in movies. Come pal around with the very young Dennis Quaid, Dennis Stern and Jackie Earle Haley. Also, Paul Dooley, the used car salesman Dad, in perhaps his funniest performance ever.
This movie was a massive critical and commercial success at the time (it even inspired a terrible TV spinoff) but I have a hunch that the youngsters today maybe haven't seen it. I can safely call it a masterpiece, perhaps even a perfect film.
Lagaan: Once Upon A Time In India(2001); Ashutosh Gowariker, director.
Cricket is weird. Imagine baseball, but even more boring. And yet by the end of this four hour (!) film you'll be cheering the bowlers and batsmen from the first sticky wicket to the last innings out. (No, what I just said probably isn't technically correct, but I really don't mind offending Cricket fans: your game is horrible.)
Lagaan tells the story of an impoverished village during the British Raj. They are getting the screws put to them by the Man, but whereas in the American West a call would go out for the Magnificent Seven, here the community rallies for an all-or-nothing Cricket match. If they win, they shall have financial relief. If they lose, they will be taxed to death.
It may sound preposterous, but with a four hour length you really get to care for these characters. Plus, as in all good Indian films, there are a few musical numbers. (Music by A. R. Rahman, I should add.)
If you are unfamiliar with Bollywood films, this is a good gateway drug. It has all of the tell-tale beats (and even one of the biggest stars, Aamir Khan) but is still very Western in its approach. If you dig Lagaan it's only a matter of time before you are renting Kabhi Khushi Kabhi Gham.
Personal Best (1982); Robert Towne, director.
When Personal Best came out it was heralded as an IMPORTANT film. Then, time moved on, social acceptance of homosexuality increased and opinion on this one somewhat soured. Looking at it now, with the gay angle being just part of the fabric of the film, the subtleties of the story come more into focus.
Mariel Hemingway is a young Olympic track and field athlete who has spent her entire young life in training. She meets an older woman also on the US team and she falls in love. (Or is she seduced?) Is the relationship for real, or is this just a way to angle for glory?
Towne's film was modern for its time, but now is a glorious time capsule of the world of sports 30 years ago, as well as our attitudes toward sexuality.
The Loneliness of the Long Distance Runner (1962); Tony Richardson, director.
Based on the Alan Sillitoe short story you probably read in high school, Tom Courtenay stars in one of the classic examples of Angry Young Man cinema.
This artfully composed film tackles Britain's class structure and rebellious youth. (This ain't Hogwart's, that's for sure.) It uses the central metaphor of the race to get inside the main character's head, and is shot in a remarkable, documentary-like style. I don't want to give too much away but it ends big. Big enough to inspire an Iron Maiden song, anyway.
Night and the City (1950); Jules Dassin, director.
The Olympics has real, Greco-Roman style wrestling. Our modern culture has the current WWE circus. But in the 1950s, there was some weird in-between version of wrestling that I still don't understand.
This is the wrestling that is the backdrop to Jules Dassin's Night and the City, one of the finer examples of film noir. This is classic stuff with hustlers, molls and gangsters, and every word out of their mouths is quotable. It is a bleak movie about desperate characters who, when foolish enough to try and get ahead, get smacked down by circumstance. If you like the vibe found in Al Swearengen's bar in Deadwood, you'll like this film.
Note: I'm pretty sure Jules Dassin has been mentioned more than any other director in these "The Best Movies You Probably Haven't Seen" columns. Suffice it to say that you should probably just see anything and everything you can by this guy – it's all great and, probably because of his time on the Hollywood blacklist and later ex-pat status, he isn't as celebrated as one of our great directors should be.
Ping Pong Playa (2007); Jessica Yu, director.
Is it just me, or does everyone go a little nuts for the table tennis during the Olympics? Maybe it's because it is a sport we all play, but, you know, with a bunch of Miller Lites while Tom Petty is on the jukebox. Then you see real table tennis and WOAH that is nothing like how you play.
Ping Pong Playa is no masterpiece, but it is a nice independent film and a hundred times better than most garbage aimed at the youth market. I bring it up as a light refreshment amidst some of these heavier films, and also as an excuse to remind you of George Carlin's observation that tennis is merely ping pong played while standing on the table.
Drive, He Said (1971), Jack Nicholson, director.
Since I've already mentioned John Huston's magnificent boxing film Fat City in an earlier column, I'll let Drive, He Said represent "New Hollywood" this week.
A collection of collegiate vignettes that play like a cross between Animal House and Zabriskie Point, this is a movie that is very much of its time. The hero of the basketball team spends his off-court time screwing anything he can coax into bed, while slowly growing more paranoid and angry about the culture around him. This is certainly a "don't trust anyone over 30" movie (or, at least, a film about the people who don't trust anyone over 30) and, frankly, there are long stretches where it is more fascinating as a cultural curiosity than an actual good movie. Still, for those who are fascinated by the era, and since the film version of Richard Farina's Been Down So Long It Looks Like Up To Me was a dud, this is one worth checking out.
Horse Feathers (1932); Norman Z. McLeod, director.
The physical stuff is my least favorite part of the Marx Brothers. But the big football match in Horse Feathers is one of the more famous set pieces in their curriculum vitae. (The bit with Harpo riding into the end zone is one of those images put in every classic cinema clips reel.)
In this one, Groucho runs a college and gets professional football players as ringers for the school team. Somehow Chico and Harpo end up in there, too. (Zeppo plays Groucho's son, which is kinda weird.) Horse Feathers is where Groucho's song "I'm Against It" was first heard, as well as the whole gang's "Everyone Says I Love You." Also: the use of the term "Swordfish" as a secret password has its origins in this one.
A lot of the early Marx Brothers pictures are available legally and in full on line. I couldn't find Horse Feathers, however, so here's Animal Crackers instead.