'Chasing Mavericks' Trailer: Gerard Butler Surfs, Mentors, Inspires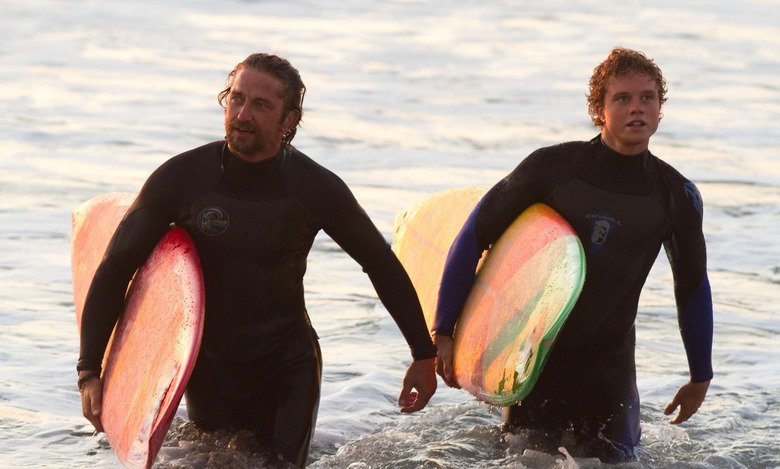 Earlier today, we saw Jonny Weston pushing his girlfried into porn in the About Cherry trailer, but in the first trailer for Chasing Mavericks it's Weston who's the wide-eyed ingenue. Weston stars as real-life surfer Jay Moriarity, whose passion for the sport drives him to try and conquer the legendarily dangerous waves at Mavericks in Northern California.
He seeks guidance from local legend Frosty Hesson (Gerard Butler), who's initially resistant but — as it always goes in these stories — eventually relents he sees something of himself in the kid. Abigail Spencer, Elisabeth Shue, and Leven Rambin also star. Watch the trailer after the jump.
[MTV]
So many of the elements here look very familiar, but if you've got a soft spot for inspirational, based-on-a-true-story sports plots, you'll probably dig this one as well. If, on the other hand, that's not your cup of tea, I'm not seeing anything in this trailer that suggests this one will change your mind.
Directed by Curtis Hanson, Chasing Mavericks opens October 26.
CHASING MAVERICKS is the inspirational true story of real life surfing phenom Jay Moriarity (played by newcomer Jonny Weston). When 15 year old Jay discovers that the mythic Mavericks surf break, one of the biggest waves on Earth, is not only real, but exists just miles from his Santa Cruz home, he enlists the help of local legend Frosty Hesson (played by Gerard Butler) to train him to survive it. As Jay and Frosty embark on their quest to accomplish the impossible, they form a unique friendship that transforms both their lives, and their quest to tame Mavericks becomes about far more than surfing. Chasing Mavericks was made with the help of some of the biggest names in the surfing world, and features some of the most mind-blowing real wave footage ever captured on film.