'About Cherry' Trailer - 'Chronicle' Actress Ashley Hinshaw Pursues Porn Stardom Under Rollergirl's Tutelage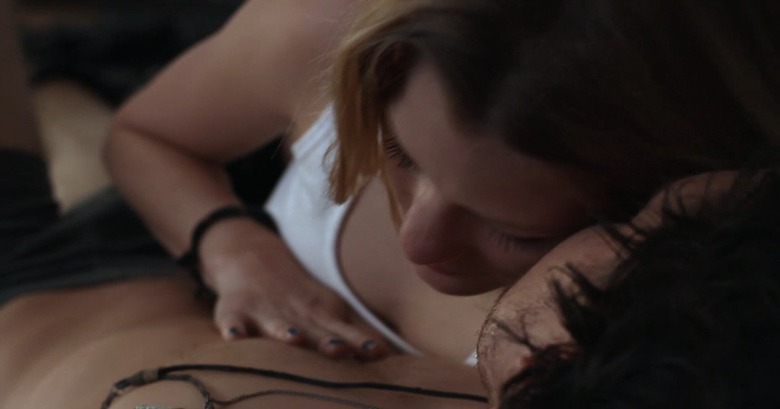 The mantra that "sex sells" remains as true now as it ever did, but sometimes what sex is selling turns out not to be all that interesting. That appears to be the case with About Cherry, Stephen Elliott's flat-looking indie about a gorgeous 18-year-old who falls into the porn industry.
Ashley Hinshaw stars as said protagonist, who's eager to escape a sad home life with an alcoholic mom (Lili Taylor) and an abusive stepdad (Stephen Wiig). She sees a way out when a rocker boyfriend (Jonny Weston) lures her into light porn, and before long she's pursuing a more serious career under the guidance of star-turned-director Margaret (Heather Graham). Dev Patel and James Franco also star. Watch the trailer after the jump.
[via Yahoo Movies]
Well, Boogie Nights it ain't. About Cherry hits so many groanworthy cliches — the pretty naive lead, the best friend who's in love with her, the sleazy older boyfriend — but then backs off when it comes to the industry itself, which looks here like the nicest, cleanest, most supportive work environment a young woman could possibly ever ask for. (It's worth noting that the film was scripted by one-time porn actress Lorelei Lee.) Perhaps the point of the movie is that porn can, under the right circumstances, be a good decision. But then why does she spend most of her time looking so miserable?
About Cherry was coolly received at the Berlin Film Festival earlier this year (back when it was just called Cherry), apparently thanks to its disappointingly shallow treatment of the topic. If you're still curious, however, the film opens September 21.
Cherry is about Angelina (Ashley Hinshaw), an 18-year-old girl on the verge of finishing high school. Angelina's family life is difficult. Her mother (Lili Taylor) is an alcoholic and her step-father is violent and unpredictable. One morning her boyfriend (Jonny Weston) suggests she take naked pictures for money. She balks at first but then does the photo shoot, using the money to run-off with her best friend (Dev Patel) to San Francisco. In San Francisco, while cocktailing in a strip club, Angelina meets Frances (James Franco) a well-off lawyer who offers to introduce her to a different kind of world, a place full of expensive dresses and fancy parties. But that world is not as perfect as it first appears and Frances has problems of his own. At the same time Angelina, using the moniker Cherry, has begun exploring the San Francisco porn industry under the direction of Margaret (Heather Graham) a former performer turned adult film director.