See Toby Jones And In Sienna Miller As Hitch And Hedren In 'The Girl'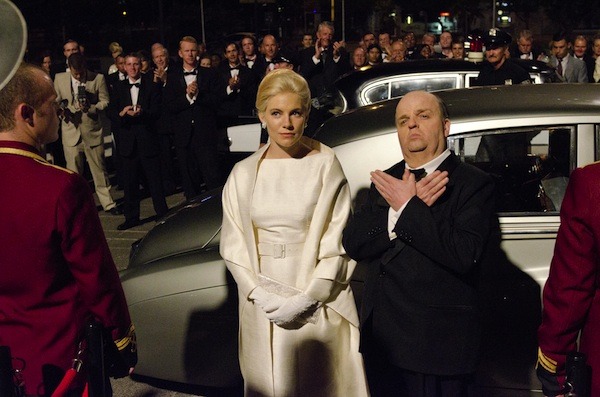 There are two Alfred Hitchcock films in production right now. One, Hitchcock, features Anthony Hopkins as the droll, rotund Master of Suspense, and focuses on the time Hitch spent making Psycho. We've seen some impressive looks at the makeup used to transform Hopkins into his subject, but we have yet to hear and see him in action.
The other film is The Girl, in which Toby Jones plays the director and Sienna Miller appears as Tippi Hedren, the model Hitch chose to make over into an icy blonde starlet to be a new Grace Kelly. We haven't seen Jones in action, either, but now we've got a couple of new images of the two actors in character, with the shot above taken from a scene in which the two seem to be hitting the red carpet for the premiere of Hedren's first film, The Birds.
As it is with the Hopkins film, I really want to see how Jones carries himself as Hitchcock. The actor did a fine job as Truman Capote in Infamous, and in general is a great talent, which shows when he's allowed a lot of leeway to play. (You see less of that in something like The Hunger Games.)
The general interest in Hitchcock this year is unexpected, and might even be enhanced a bit thanks to the placement of Vertigo on the Sight & Sound list released earlier today. Maybe there's reason to have two selective Hitchcock biopics this year, after all. [TV Line]