Paul Giamatti, Jason Schwartzman, And Ruth Wilson Board Disney's 'Saving Mr. Banks'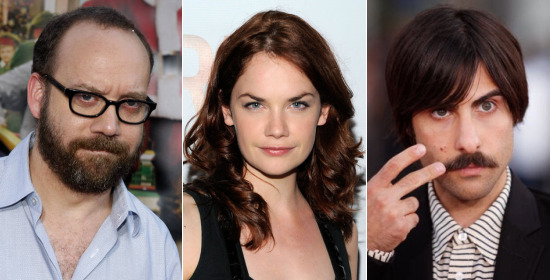 When a project starts out with A-list leads like Tom Hanks and Emma Thompson, it's not surprising when the supporting cast turns out to be equally impressive. Paul Giamatti, Jason Schwartzman, and Ruth Wilson have just joined the cast of Saving Mr. Banks, Disney's drama about the making of Mary Poppins.
Though the film's still in pre-production, it already boasts some serious pedigree, and not just in terms of acting talent: The Blind Side helmer John Lee Hancock is on board to direct from a Black List script by Kelly Marcel. More details after the jump.
Colin Farrell was cast last month as Travers' father, who passed away when she was a little girl, and Variety reports today that Wilson will play his wife (and Travers' mother). It sounds like an odd bit of casting, seeing as the 30-year-old Wilson is 23 years younger than Thompson, but the plan is for Farrell and Wilson to appear in flashbacks. Saving Mr. Banks is just the latest in a string of high-profile roles for the actress; her other upcoming projects include Anna Karenina and The Lone Ranger.
Giamatti has been cast as a character named Ralph, who serves as Travers' chauffeur when she visits Los Angeles. It doesn't sound like much of a part on paper, but presumably the filmmakers wouldn't bother hiring someone as well-known as Giamatti if the character weren't somehow important. Giamatti was last seen in Rock of Ages and is currently shooting Steve McQueen's Twelve Years a Slave.
Finally, Schwartzmann will play Richard Morton Sherman, a songwriter who worked on several Disney projects including The Jungle Book, Winnie the Pooh, and of course, Mary Poppins. Schwartzmann is just coming off of a supporting part in Wes Anderson's Moonrise Kingdom.