'Werewolf: The Beast Among Us' Trailer: Universal Reboots Their Monsters On Blu-Ray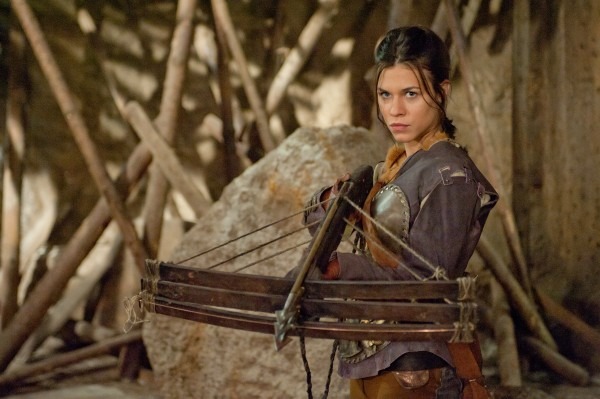 When some moviegoers think of Universal, they think Universal Monsters. The Wolfman, Dracula, Frankenstein, The Mummy, The Creature and more all featured in classic movies at the studio, and have since become Universal trademarks. 2012 is the 100th anniversary of the studio. To celebrate, they're attempting to reinvent the Monsters brand in the home market, beginning with a reinvention of the Wolfman.
Werewolf: The Beast Among Us is directed by Louis Morneau (Joy Ride II) and stars Stephen Rea, Steven Bauer,and Nia Peeples. It hits stores right in time for Halloween, October 9, and you can read more about it and check out the trailer after the jump.
Thanks to Collider for the trailer.
And here's the official plot description.
A monstrous creature terrorizes a 19th Century European village by moonlight and a young man struggles to protect his loved ones from an unspeakable scourge in Werewolf: The Beast Among Us, Universal Studios' all-new addition to its time-honored legacy of classic monsters. During his studies with the local doctor (Stephen Rea), Daniel (Guy Wilson) witnesses the horrific consequences of werewolf attacks. Watching as the beast's fearsome reputation draws bounty hunters, thrill seekers and charlatans to the tiny town, Daniel dreams of destroying the ruthless predator. So when a mysterious stranger (Ed Quinn) and his team of skilled werewolf hunters (Stephen Bauer, Adam Croasdell) arrive to pursue the monster, he offers to join them, despite his mother's (Nia Peeples) protests. But it soon becomes clear that this creature is stronger, smarter and more dangerous than anything they have faced before. As casualties mount and villagers see their neighbors transformed into ravening monsters, the townsfolk take up arms against each other to find the true identity of the werewolf. Amid the hysteria, Daniel begins to suspect he's closer to his target than he ever dreamed.
Head to Collider for more images and info on the direct-to-DVD film, including specs, features and more. The idea to use these iconic characters on home video might seem like its cheapening them, but these days, getting a film out and distributed at all – even at a studio – is a huge feat. I hope this works out and we get bigger and better films with these iconic characters.
What did you think of the trailer?