TV Bits: 'Hannibal', 'Mockingbird Lane', 'Dexter', 'Homeland', 'Modern Family', Stephen Merchant, And More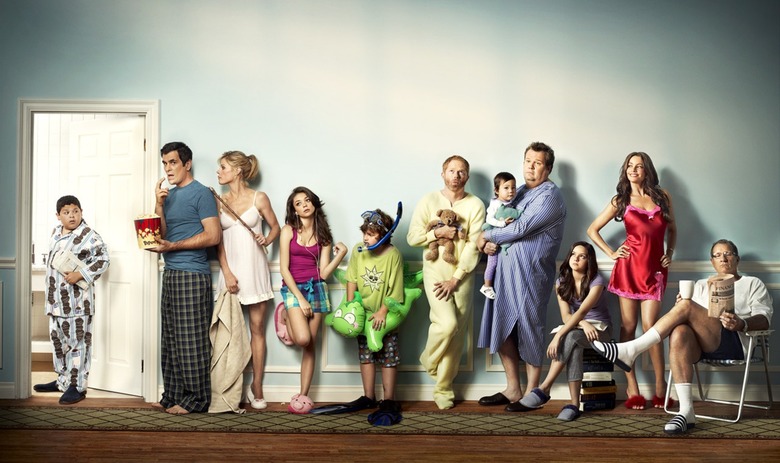 There's a little bit of everything in today's batch, including a new trailer, new pics, some casting info, and some industry drama. After the jump:
Laurence Fishburne is in talks for Bryan Fuller's Hannibal
Check out the not-so-monstrous Mockingbird Lane cast
NBC's new offerings for the fall season will debut early online
Flip through promo pics from Dexter's seventh season
Watch Claire Danes go crazy in a new trailer for Homeland
HBO picks up a pilot by UK Office co-creator Stephen Merchant
Modern Family's contract negotiations delay production
Fishburne would play Jack Crawford, Graham's boss at the Behavioral Science Unit of the FBI. It's a role previously played on the big screen by Dennis Farina in Manhunter, Scott Glenn in Silence of the Lambs, and Harvey Keitel in Red Dragon. The series is expected to debut on NBC midseason. [TV Line]
The more we learn of Fuller's Mockingbird Lane, the less it seems to resemble the original Munsters and more it looks like that True Blood / Modern Family hybrid we were promised. A new snapshot of the cast in costume suggests that one of Mockingbird Lane's many major departures from the source material will be in the appearances of the main characters. Specifically, in how very un-monstrous they look. Gothy, yes; vampiric, werewolvian, or Frankensteinesque, no.
No doubt the new Munsters' more human appearance will come as a disappointment to some fans, but the Pushing Daisies lover in me is still willing to give Fuller the benefit of the doubt. Mockingbird Lane stars Eddie Izzard (Grandpa), Jerry O'Connell (Herman), Portia de Rossi (Lily), Mason Cook (Eddie), and Charity Wakefield (Marilyn). [Comic Book Movie]
Speaking of new shows from NBC: You may get to check out their fall slate sooner than you thought. The network will debut the first episodes of six freshman series two weeks in advance of their official on-air premieres, via on demand, iTunes, Hulu, Xbox, Amazon, and NBC.com. Plus, as previously reported, Go On and Animal Practice will get TV previews next month during the Olympics.
Here are the details, via Cinema Blend:
The New Normal (comedy) – Sampling begins: August 29, Official premiere: September 11
Go On (comedy) – On Air preview: August 8, Sampling begins: August 9, Official premiere: September 11
Guys with Kids (comedy) – Sampling begins: September 13, Official Premiere: September 26
Revolution (drama) – Sampling begins: September 13, Official premiere: September 26
Animal Practice (comedy) – On Air preview: August 12, Sampling begins: August 13, Official premiere: September 26
Chicago Fire (drama) – Sampling begins: September 27, Official premiere: October 10
Showtime's Dexter has just released a small batch of promo pics that suggest the Bay Harbor Butcher may have a bit of trouble disposing of a body in this fall's Season 7 premiere. (Major spoilers for Season 6 and minor spoilers for Season 7 ahead.)
Sticking with his usual M.O. would make it clear to Deb (Jennifer Carpenter) that he's done it before, so it looks like Dexter (Michael C. Hall) may have to resort to some messier methods to keep from getting caught. Which is bound to raise a whole new set of problems for the killer, of course. Dexter returns Sunday, September 30. [TV Overmind]
Also gearing up for a fall return is Showtime's Homeland, which has just released a new teaser. Sadly, the video doesn't offer much footage from Season 2, but it does a great job of reminding us where Season 1 left off.
Homeland premieres Sunday, September 30, immediately following Dexter. [EW]
After years of working with Ricky Gervais, Stephen Merchant is ready to step out on his own. The Office (U.K.) co-creator is teaming up with The Office (U.S.) writer-producers Lee Eisenberg and Gene Stupnitsky for Hello Ladies, which has just received a pilot order at HBO.
Inspired by Merchant's own standup show of the same title, the comedy will feature the gawky Brit trying to meet and mingle with the beautiful and glamorous. Too bad he himself isn't quite the charmer he thinks he is. Merchant, Eisenberg, and Stupnitsky co-wrote the script and are executive producing; Merchant will also direct and star in the pilot when it shoots later this year. [Deadline]
Modern Family seemed to be riding high when its million or so Emmy nominations were announced last week, but apparently things aren't so peachy behind the scenes. The ABC comedy has just cancelled the first table read of its fourth season due to ongoing contract negotiations with the adult cast, which are becoming increasingly contentious.
Sofia Vergara, Julie Bowen, Ty Burrell, Jesse Tyler Ferguson, and Eric Stonestreet have filed a lawsuit against 20th Century Fox Television to void their contracts. Ed O'Neill, who gets paid on a different scale, is said to have joined the plaintiffs after the initial filing out of solidarity with his co-stars.
Tense contract disputes aren't terribly uncommon, and apparently neither is this particular legal tactic, but it is unusual for these problems to get in the way of production. The delay's pretty minor at the moment, but the longer it takes the two sides to resolve the dispute the tougher it'll be for them to get back on track for Season 4. [Vulture]