Tugg Encourages A Local Theatrical Experience With Ever Expanding Film Library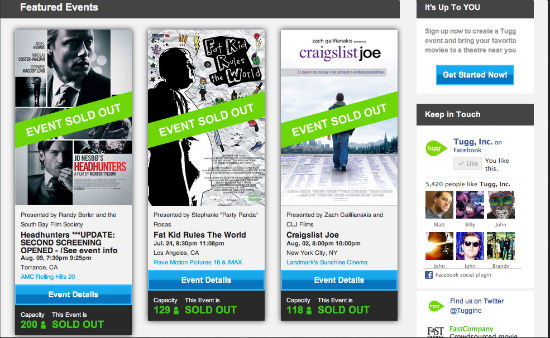 With the theatrical film experience seemingly fading away with each passing day, it's nice to know some companies still hold it sacred. Tugg is one of those companies. Launched this past February, Tugg is a website that does virtually all the work of booking a film screening, allowing anyone to set up theatrical screenings of major movies in their local cinema. Since its inception, however, I kind of forgot about the company and decided to check in. What's going on with Tugg?
What I found was the site has been expanding exponentially. They're legitimately distributing smaller films, have hundreds of incredible titles available and fans across the country are making use of the service. A quick glance through their library reveals several of my personal favorite films which I've never seen on the big screen: The Apartment, Office Space, Rocky, The Rules of the Game, Predator, The Sandlot and several others. After the jump, I'll show you a bunch of other awesome movies you can Tugg and give you a bit of background on how it's working.
If you don't know what Tugg is, here's the basic idea. You go to their website. You pick a movie you want to see on the big screen. You set the venue, date, time and ticket price and they give you a number of tickets that have to be sold. Once that amount of tickets are sold, everyone is charged and the screening is locked in. It's as easy as that.
The site has almost 600 movies available for this unique on demand experience ranging from Hollywood blockbusters, cult classics, family film, foreign films, new independents and traditional classics. I ran though the entire catalog and picked out some of my own personal highlights, which I've listed below. Remember, this is a small sampling. There are tons of other movies on the site and it's expanding rapidly. (Note: These are just super broad generalizations, several films could fit in multiple categories.)
Hollywood Blockbusters – Big, Die Hard, District 9, Edward Scissorhands, Inglourious Basterds, Raging Bull, Princess Bride, Predator, RoboCop, Rocky, The Social Network, Superbad, Taxi Driver
Cult Classics – Bring Me The Head of Alfredo Garcia, Dr. Strangelove,  Fanboys, Gimmie Shelter, Office Space, The 7th Voyage of Sinbad
Family Films - A Town Called Panic, Fantastic Mr. Fox,Labyrinth, Muppets Take Manhattan, The Sandlot
Foreign Films – Enter the Void, The Red Shoes, The Rules of the Game, Seven Samurai
New Independents – Beyond The Black Rainbow, Extraterrestrial, Headhunters, Indie Game: The Movie
Traditional Classics – The Apartment, The Bridge of the River Kwai, The General, The Good The Bad and The Ugly, Jason and the Argonauts, In The Heat Of The Night, M*A*S*H, Metropolis, Mr. Smith Goes To Washington, Some Like It Hot, West Side Story
And that's just 1% of what's currently on the site.
I put the call out on Twitter to see if anyone had been using Tugg and got a few responses from fans. For example, Brad McHargue of milehighcinema.com has been using it in Denver and said, while it's sometimes tough to promote, it's an easy process. "Once it's set up, just promote the crap out of it and, once it reaches the goal, just show up at the theater. Very simple," he said.
Brian Kelley, a regular contributor to several online sites such as Film School Rejects, has been doing the same thing in Austin. He organized one screening of a film called Ecstasy of Order: The Tetris Masters and besides reaching his goal, organized a huge Tetris tournament in the theater. "That was a pretty high-concept screening but it really showed how you can fill a theater for a single screening of a movie that otherwise would probably have a hard time being booked for a run of any substantial length," he said. "The people that want to see it are going to come out and if an event doesn't meet it's ticket quota to be confirmed, there's no risk for anyone. It's a pretty cool system. I'm excited to see where it goes."
Kelley and other Austin bloggers were also involved in a Tugg screening of The Pit and the Pendulum where the film did not arrive correctly and, instead, a pan and scan DVD was shown. Most people were not happy with this experience but Tugg offered refunds, did a replacement screening and have since implemented new quality control standards and practices. The new company is learning from its mistakes.
A high concept idea like Tugg takes a while to get off the ground and speed bumps will have to be overcome, but a company that puts such a premium on the fans and the theatrical experience certainly deserves our attention. And that current catalog of movies, which will only get better, can't hurt.
For more on Tugg, and to participate in your area, head to Tugg.com.