Watch A Six-Minute Clip Of Joe Wright's 'Anna Karenina'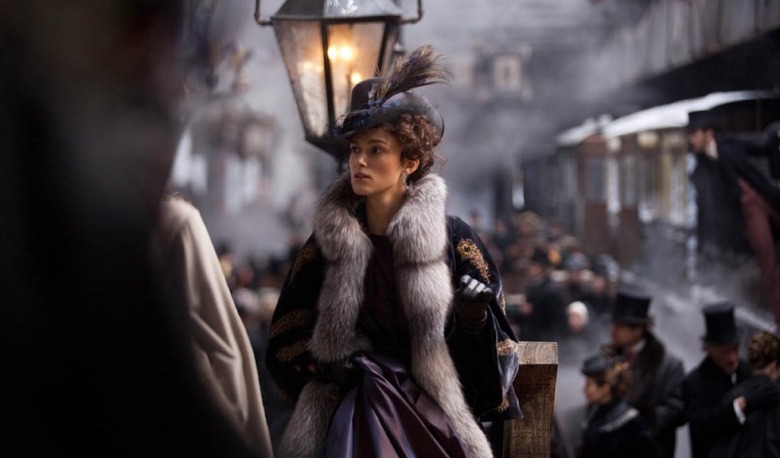 If last month's first trailer for Anna Karenina gave us an intriguing taste of the sumptuous theatricality of Joe Wright's adaptation, this new six-minute clip offers a big, juicy bite. As Wright explains in the introductory voiceover, nearly the entire film was filmed on over a hundred sets, nearly all constructed inside a single dilapidated theater. And he takes full advantage of the setting, turning what could've been a staid period drama into something rich, ambitious, and altogether unique.
Historical romance queen Keira Knightley stars as the title character, a 19th century Russian aristocrat who enters into a passionate and destructive affair with the charismatic Count Vronsky (Aaron Taylor-Johnson). Watch the clip after the jump.
[via Vulture]
The use of the theater to represent the "stage" upon which Anna and her circle play out interpersonal dramas isn't all that subtle — especially when Wright himself points it out — but it is effective. It's the perfect device for underscoring both the society's obsession with surfaces and reputations, and the heightened emotions of Anna and Vronsky's romance.
And this particular clip does an excellent job of sketching out the movie's premise and its central characters. As Anna's husband Alexei Alexandrovich, Jude Law demonstrates exactly what kind of man he is when he primly points out to his wife that she's giving off the appearance of impropriety, even as he refuses to admit to any actual jealousy on his part because it's not "dignified." I'm not sure any amount of acting could make Johnson's mustache stop looking silly, though.
Between Wright's Anna Karenina, Tom Hooper's Les Misérables, and Baz Luhrmann's The Great Gatsby, late 2012's turning out to be quite the season for grand literary adaptations. But for my money, Wright's looks the most interesting. Also starring Kelly Macdonald, Matthew Macfadyen, Olivia Williams, and Michelle Dockery, Anna Karenina opens November 9.